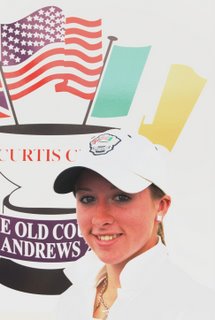 American college honour
for Jodi Ewart
PRESS RELEASE ISSUED BY ENGLISH WOMEN'S GOLF ASSOCIATION
England's Jodi Ewart (
picture right by Cal Carson Golf Agency,
all rights reserved
) has earned a top honour for her performance in US women's college golf over the 2007-2008 season.
The Curtis Cup player from Yorkshire has been named an honourable mention All-American by
Golfweek. It means she's included in an elite list of America's top college golfers.
This is the second year in a row that Jodi has been honoured in this way and she's only the fifth student from her college, New Mexico University, to be a two-time All-American.
Before returning to Britiain to play in the Curtis Cup, Jodi successfully defended the Mountain West Conference championship. She was also named Conference co-player of the year. Jodi, who plays at Catterick Golf Club, is the reigning English stroke-play champion.
Labels: Amateur Ladies