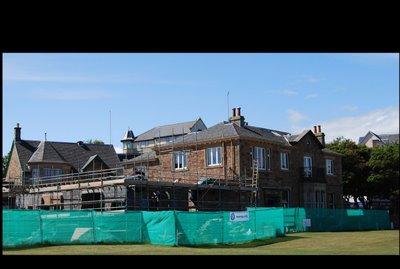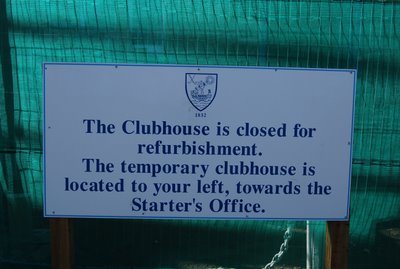 Business as usual at North Berwick Links
while clubhouse is refurbished
There can be few golf courses that have staged a major championship - "major" with a small 'm' - while the host clubhouse has been closed for refurbishment.
But that's the state of affairs this week at North Berwick West Links where the British women's open amateur championship is being played for the first time in the tournament's 115-year history.
The clubhouse is undergoing a major refurbishment costing well over £1million and it would have cost a lot more in the long run had the North Berwick club delayed its start until after the British women's championship had been played.
The golf club has set up its own "tented village," housing the administration offices, catering lounge, etc. Tents have come so far along the road from the canvas variety that this temporary accommodation is quite acceptable.
North Berwick Golf Club, formed in 1832, is the 13th oldest golf club in the world. The clubhouse that is being refurbished was built in the late 1870s-early 1880s.
Prior to that point, a marquee was erected for the main meetings with members supplying the food and refreshments.
So you could say that things have gone full circle at North Berwick!
Labels: GOLF DEVELOPMENT