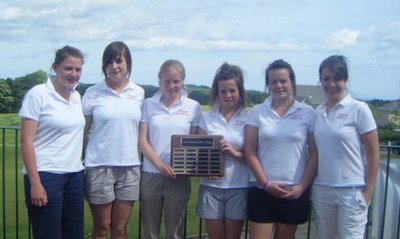 East girls are Scottish inter-divisional champions
NEWS FROM MANDY EASTON (who also took the above picture):
Pictured above are the East girls with the Scottish girls' inter-divisional matches trophy which they won at Ballumbie Castle today at the end of two days' play at the Dundee course.
I do not have the full results of all the matches but I can tell you that the East girls came from behind today to win the title by beating West who were the leaders after Day 1 by 1/2 point.
East managed a 3-0 win against West to take the trophy.
Thanks, Mandy for breaking the news.
We hope to have all the results for you sometime on Monday.
.
Labels: Girls