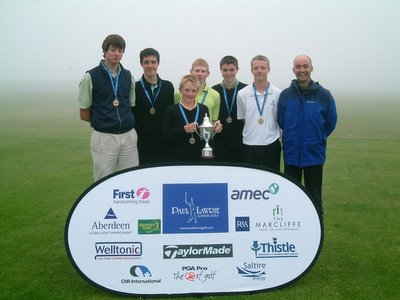 Youngest Hazlehead Academy team member Grant Joss is pictured holding the trophy. Back row (left to right): Fraser McDonald, Michael Angus, Calum Stirton, Douglas Elrick, Ryan Dick (capt.), Gary Giles (teacher).
HAZLEHEAD ACADEMY ARE TOP OF THE
ABERDEEN SCHOOLS GOLF CLASS AGAIN

For the third occasion in six years, it was Hazlehead Academy who lifted the Aberdeen Schoolsí Golf League sponsored by Paul Lawrie Junior Golf. At a mist shrouded Kingsí Links they beat Robert Gordonís College 2-1.
The first two matches were halved but Hazlehead's third pairing of Fraser McDonald and Grant Joss won by 3 and 2, ensuring victory and regaining the trophy they last won in 2006.
There was high quality golf in abundance and none more so than in the first match. With nothing between the pairings, it burst into life at the 16th when Ali MacDonald holed his 3 foot birdie for the Robert Gordonís pairing to go one up.
At the next hole, Douglas Elrick must have thought his 30 foot birdie putt would be good enough to win the hole but Ali MacDonald followed him from 16 feet for a half.
In an exciting finale Ryan Dick knocked his tee shot to 4 feet, which he duly holed for birdie and a square match.
There was also an exciting finish to the second match where the Robert Gordonís pairing of Steven Smith and Neil Barnes found themselves two down with four to play against Michael Angus and Calum Stirton but birdies at 15 and 16 also gained them a share of the points.
Result (Hazlehead first):
Ryan Dick and Douglas Elrick halved with Ali MacDonald and Zac Clark.
Michael Angus and Calum Stirton halved with Steven Smith and Neil Barnes.
Fraser McDonald and Grant Joss beat Scott Simpson and Blair Hawthorne 3 and 2.
Report and picture supplied by Derek Johnstone.
Labels: Schools