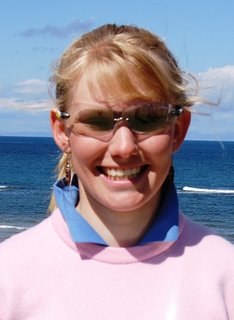 SUSAN SHINES AGAIN IN
LGU CHALLENGE
BOWLS AT HILTON PARK
Fife golfer Susan Jackson followed up her Clark Rosebowl success in the recent Scottish women's amateur championship at Lossiemouth by winning one of the major trophies in the Ladies Golf Union Challenge Bowls competition at Hilton Park Golf Club, Glasgow today.
The Ladybank player,
picture right by Cal Carson Golf
Agency (all rights reserved),
had a par and CSS-matching round of 73 to win the Wallace Williamson Bowl for the leading Silver Division scratch score.
The best net round in this division was a 66 off 14 by Merle Oxton (St Boswells). Runner-up was Helen Faulds (Douglas Park) with a net 72 off four.
In the Bronze Division the winner of the scratch trophy was Isobel Millar (Vale of Leven) with a score of 107. The best net score in this section was an 81 off 33 by home-course player Rhonda Morris (Hilton Park).
ends
Labels: Amateur Ladies