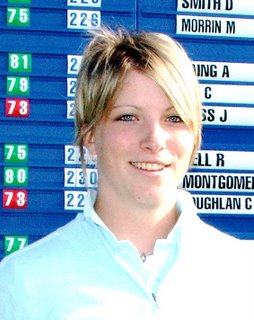 Gwladys just holds Melissa's
last-round challenge
to score Dutch double
FROM THE LADIES' EUROPEAN TOUR WEBSITE
Gwladys Nocera successfully defended the ABN AMRO Ladies Open at Eindhovensche Golf in the Netherlands today, winning by one shot with a spectacular birdie on the last hole.
The 33-year-old Frenchwoman held a four-shot lead overnight and closed with a one-under-par 71 to secure her second title of the year after the Aberdeen Asset Management Ladies Scottish Open five weeks ago. It was her seventh Ladies European Tour trophy in little more than a two year period.
Nocera posted a 13-under-par total of 203, winning back-to-back in the same tournament for the first time in her six-year career. Last year the tournament was played at the same golf course but went by the name of the KLM Ladies Open.
Nocera won by a seven-shot margin in 2007 but this time it was not so easy. She rolled in a perfectly judged 18-footer at the last for her one-shot victory over Melissa Reid (picture above by Cal Carson Golf Agency, all rights reserved) from England.
She said she played ugly. "I just didn't play well; I had some really ugly shots," said Nocera. "I missed some fairways and then I missed some greens. I had to fight to make pars and then when I didn't make pars I made bogeys. It was just not really nice golf. I just told myself, "It doesn't matter how you play, it only matters if you lift the cup or not so I tried to win anyway."
As Nocera found trouble on the front nine she watched her lead narrow as Reid gradually caught up. The 20-year-old rookie from Derby, paired with Nocera, was just one shot behind the long-time leader after six holes in the final round. There was temporary relief for Nocera when she birdied the seventh, which Reid bogeyed.
Reid caught up with a birdie at the par-3 11th-hole which Nocera bogeyed. The players were still tied after 17 holes, Reid having bogeyed the 14th and birdied the 15th. However Reid's hopes of a first Ladies European Tour title disappeared when she missed her 20ft birdie chance at the 18th.
"I don't think Melissa did anything wrong," said Nocera, who earned a first prize of €37,500 and now leads the New Star Money List with earnings of almost €140,000 from eight tournaments. "She shot four-under and she played really well. From my point of view I didn't play well and I had to manage that. I think that's experience when even if you play bad you are capable of making the putt you need to make on 18."
Reid, who would have played for GB&I in the Curtis Cup a week or so ago had she not turned pro during the winter, shot a third successive round of 68 to finish on 12-under-par in second, her best finish in eight appearances on the LET this year.
"I definitely feel I can win now," said Reid, who moved from 14th to seventh on the LET rankings. "I had two not very good weeks and it just goes to show that every time you pitch up on a Thursday it's a brand new tournament and a brand new week. Everyone starts off the same.
"I hit the ball pretty good all week. My swings felt pretty good. To be honest I didn't hit it as well today as I did yesterday but I'm still pretty satisfied. I felt I gave a couple of shots away out on the golf course but Gwladys had a great birdie on the last. She won it."
Anne-Lise Caudal from France, 23, shot a final round of 68 to finish third on 11-under-par, which was her career best finish in two seasons on the Ladies European Tour. England's Kirsty S Taylor, playing with a knee injury, was fourth on nine-under, while Spain's Paula Marti and Denmark's Lisa Holm Sorensen shared fifth on eight-under-par.
FINAL TOTALS
Par 216 (3 x 72)
203
G Nocera (Fra) 67 65 71 (37,500 Euros).
204
M Reid (Eng) 68 68 68 (25,375 Euros).
205
A-L Caudal (Fra) 68 69 68 (17,500 Euros).
208
P Martin (Spa) 69 70 69, K S Taylor (Eng) 71 657 70, L H Sorensen (Den) 72 65 71 (10,950 Euros each).
209
M Boden (Swe) 71 72 66 (7,500 Euros).
210
B Brewerton (Wal) 72 71 67, M Skarpnord (Nor) 73 70 678 (5,925 Euros each).
211
L Hart (US) 71 69 71, D Lacey (Aus) 73 67 71, V Zorzi (Ita) 70 69 72, S Walker (Eng) 70 69 72 (4,481 Euros each), C Boeljon (Net) (amateur) 70 70 71.
212
K Lunn (Aus) 71 71 70, S Croce (Ita) 70 71 71, J Schaeffer (Fra) 67 73 72, L Wahlin (Swe) 70 70 72 (3,669 Euros each).
Other totals:
213
R Coakley (Ire) 68 73 72, Lisa Hall (Eng) 71 70 72 (jt 19th) (3,116 Euros each).
214
F Johnson (Eng) 69 71 74 (jt 27th) (2,663 Euros).
215
D Masters (Eng) 73 73 69 (jt 31st) (2,175 Euros).
216
C Coughlan-Ryan (Ire) 73 69 74, N C Booth (Eng) 76 68 75 (1,608 Euros each).
217
J Morley (Eng) 71 73 75
, C Queen
(Sco) 70 72 75 (jt 46th) (1,235 Euros each).
219
L Shervill (Eng) 71 73 75 (jt 52nd) (905 Euros).
220
E McKinnon (NZ) 70 74 76 (jt 54th) (905 Euros).
ALL THE FINAL TOTALS
203 Gwladys Nocera (Fra) 67 65 71
204 Melissa Reid 68 68 68
205 Anna-Lise Caudal (Fra) 68 69 68
208 Lisa Sorensen (Den) 72 65 71, Kirsty S Taylor 71 67 70, 209 Maria Boden (Swe) 71 72 66
210 Marianne Skarpnord (Nor) 73 70 67, Becky Brewerton 72 71 67
211 Sophie Walker 70 69 72, Dana Lacey (Aus) 73 67 71, Leah Hart (Aus) 71 69 71, Veronica Zorzi (Ita) 70 69 72, Christel Boeljon (Ned) 70 70 71
212 Karen Lunn (Aus) 71 71 70, Lotta Maria Wahlin (Swe) 70 70 72, Jade Schaeffer (Fra) 67 73 72, Stefania Croce (Ita) 70 71 71
213 Caroline Afonso (Fra) 71 71 71, Rebecca Coakley 68 73 72, Laurette Maritz (Rsa) 73 71 69, Lisa Hall 71 70 72, Natascha Fink (Aut) 72 70 71, Anna Knutsson (Swe) 71 71 71, Titiya Plucksataporn (Tha) 74 68 71, Isabella Maconi (Ita) 70 70 73
214 Felicity Johnson 69 71 74, Mianne Bagger (Den) 71 71 72, Lee-Anne Pace (Rsa) 71 71 72, Johanna Westerberg (Swe) 70 74 70
215 Maria Verchenova (Rus) 74 71 70, Federica Piovano (Ita) 72 73 70, Julie Tvede (Den) 73 73 69, Joanne Mills (Aus) 71 72 72, Stacy Lee Bregman (Rsa) 73 70 72, Danielle Masters 73 73 69, Ludivine Kreutz (Fra) 74 71 70, Anna Tybring (Swe) 73 72 70, Eva Steinberger (Aut) 72 71 72
216 Krista Ursula Wikstrom (Fin) 68 74 74, Iben Tinning (Den) 71 72 73, Anja Monke (Ger) 72 74 70, Natalie Booth 73 68 75, Claire Coughlan 73 69 74, Florence Luscher (Swi) 74 69 73
217 Lill Saether (Nor) 72 72 73, Joanne Morley 71 73 73, Emma Zackrisson (Swe) 74 71 72, Clare Queen 70 72 75
218 Cecilie Lundgreen (Nor) 70 76 72, Marjet Van Der Graaff (Ned) 74 72 72
219 Liza Aileen Shervill 71 73 75, Anna Rossi (Ita) 73 73 73
220 Kate Combes (Aus) 74 72 74, Lynn t Brooky (Nzl) 69 75 76, Sophie Sandolo (Ita) 69 75 76, Margherita Rigon (Ita) 68 75 77, Elizabeth McKinnon (Swe) 70 74 76
221 Christine Hallstrom (Swe) 74 72 75, Elisabeth Esterl (Ger) 75 71 75
222 Nikki Garrett (Aus) 71 74 77, Sarah Nicholson (Nzl) 71 73 78, Julie Berton (Fra) 74 72 76, Bronwyn Mullins-Lane (Aus) 73 73 76
223 Caroline Karsten (Ned) 75 71 77
Labels: LADIES EUROPEAN TOUR