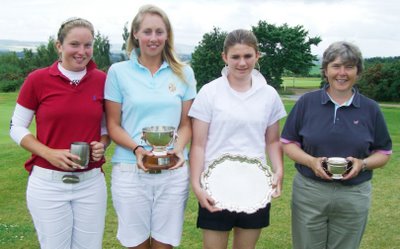 Left to right: Katy McNicoll, Alexandra Bushby, Jemma Chalmers and Dot MacKinnon (image by P&K county captain Dawn Butchart). You can enlarge the image by clicking on it.
Alexandra Bushby beats Katy McNicoll
in North of Scotland final at Strathmore
Home-course player Alexandra Bushby beat top seed Katy McNicoll (Carnoustie Ladies) by 2 and 1 in a North of Scotland women's amateur championship final full of birdies at Strathmore Golf Centre, Alyth today.
The better ball for the 17 holes was seven under par.
Alexandra, the No 2 qualifier this week, last won the North of Scotland title in 2004, which was the last time the championship was played at the Strathmore venue where Bushby has been club champion in 2001, 2006 and 2007. She was unable to play in the Strathmore qualifiers this year and P&K county captain Dawn Butchart won the club title. Alexandra is also a member at Blairgowrie and has won the ladies club championship there for the second year running.
In today's final, Bushby was two up at the turn from which point the players traded birdies. Three times McNicoll reduced her deficit to one with birdies and three times her opponent restore a two-hole lead with birdies of her own.
The handicap final was won by Jemma Chalmers (Monifieth who beat Dot MacKinnon (McDonald Ellon) by 6 and 5.
Today's results
Championship - Semi-finals
Katy McNicoll (Carnoustie Ladies) bt Susan Arbuckle (Panmure Barry) 3 and 2.
Alexandra Bushby (Strathmore) bt Aileen Hunter (Monifieth) 5 and 4.
Final
- Bushby bt McNicoll 2 and 1.
Handicap - Semi-finals
J Chalmers (Monifieth) (13) bt G Wilson (Monifieth) (14) 4 and 2.
D MacKinnon (McDonald Ellon) (11) bt J Sneddon (Alyth) (17) 2 holes.
Final
- Chalmers bt MacKinnon 6 and 5.
Labels: Amateur Ladies