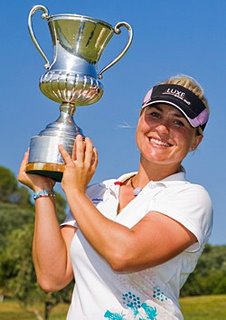 Martina Eberl wins Ladies
Italian
Open by five strokes
FROM THE LADIES' EUROPEAN TOUR WEBSITE
By BETHAN CUTLER
Germany's Martina Eberl cruised to a five-stroke victory at the BMW Ladies Italian Open in Tuscany today. The win was her second in 10 months after the 2007 Madrid Ladies Masters last October.
The
26-year-old from Munich,
pictured right with the trophy, by
courtesy of the Ladies European Tour website
, added a closing two-under 69 to opening rounds of 67, 74 and 65 for a total of nine-under-par 275 at Argentario Golf Resort and Spa on Monte Argentario.
Eberl began the day with a two-stroke lead and stalled with an early bogey at the second hole, but bounced back with two tap-in birdies at the seventh and eighth holes to claim a three-stroke cushion at the turn.
She knocked in a 4ft birdie putt at the par-4 10th hole, before carding another bogey at the 13th hole, where she pulled her tee shot left into deep bushes and took a penalty drop.
After sealing the win and first prize of €67,500 with a tap-in birdie at the par-4 18th hole, she said: "I'm so happy right now. It was very hard out there and the wind was very difficult all week. I didn't know I was leading until I hit my second shot into the 18th hole and looked over to the leader board.
"I ignored every scoreboard all day because it doesn't help me. I figured that out a long time ago. I must thank my caddie (Vincent Fernie) because he was calming me down all day. He knew I didn't want to know the scores and without his help I wouldn't have won. I never want to give him away."
Eberl said she would celebrate in a local restaurant with some pasta and her boyfriend Thad Kael (Kiran Matharu's current caddie) before heading to the Evian Masters from July 24-27. "The next two weeks are European majors but I just want to enjoy this week first," said Eberl, adding: "I'm looking forward to next week and I hope that I can play well again there."
The US$3.25 million Evian Masters is considered a major on the Ladies European Tour and the prize money is the highest in women's golf alongside the Women's US Open.
Spain's Carmen Alonso had a career-best finish of second after shooting 66 and playing the back nine in six-under-par. Alonso, who has limited playing privileges on tour this year, entered the tournament as the first reserve and with her fine performance almost certainly secured her card for the 2009 season.
The longest hitter on the Ladies European Tour, Alonso fired five birdies in a row from the 10th hole, with another at the 16th, for an inward total of 29 strokes. She explained:
"Two months ago I was practising at my home club, Race Golf Club in Madrid, and I made six under on the back nine. I was standing on the 10th tee today and I thought, "Why not six under on the back nine today?
"It could have been seven birdies in a row because on 15 I made a really good birdie putt but missed it by an inch. I was two over after seven holes but the best thing I have learned from Laurette Maritz is that you have to fight until the end. That's it.
"I'm so happy because my mum is here and all my problems have gone away. Now I can relax. I just wanted to keep my card. Of course I am happy about the money but for me money is not the most important thing.
"I need to have my card because with my card I can play and for me that is everything. Golf is my passion."
Denmark's Lisa Holm Sorensen shot a final round 73 and shared third on three-under with World No 11 Maria Hjorth from Sweden and Wales' Becky Brewerton, who both shot 72. The leading Italian player was Stefania Croce, who shared sixth with three others: Sweden's Christine Hallstrom and the French duo of Gwladys Nocera and Anne-Lise Caudal.
FINAL TOTALS
Par 284 (4 x 71)
275

M Eberl (Germany) 65 74 67 69 (60,000 Euros).
280

C Alonso (Spain) 67 70 77 66 (40,600).
281

M Hjorth (Sweden) 64 73 72 72, B Brewerton (Wales) 66 71 72 72, L H Sorensen (Denmark) 68 70 70 73 (22,186 each).
282

A-L Caudal (France) 72 76 67 67, C Hallstrom (Sweden) 70 71 72 69, S Croce (Italy) 69 73 71 69, G Nocera (France) 65 70 73 74 (11,240 each).
283

T Elosegui (Spain) 70 78 65 70 (8,000).
284 C Ekelundh (Sweden) 73 73 73 65, L Brooky (NZ) 75 71 69 70 (7,120).
285 S L Bregman (South Africa) 73 71 72 69, L Fairclough (England) 70 70 73 72 (6,300 each).
Other totals:
286 S Head (England) 74 70 71 71 (jt 15th) (5,773).
287 G Simpson (England) 70 69 71 77 (jt 18th) (5,360).
291 R Coakley (Ireland) 71 76 77 67,

C Queen

(The Carrick at Cameron House) 76 71 70 74 (jt 30th) (3,660 each).
292 N C Booth (England) 72 74 76 70, L Hall (England) 72 76 70 74 (jt 36th) (2,933 each).
294 K Matharu (England) 73 73 75 73,

J Wilson

(Scotland) 74 75 72 73 (jt 46th) (2,040).
301 E Pilgrim (Wales) 72 78 74 77 (jt 62nd) (1,160).
====================================================================C
COLIN FARQUHARSON'S SCOTSWATCH:
Clare Queen had a chance of a top-20 finish at the start of the last day. At the end of it, she had slipped to joint 30th place on 291. Her final round of 74 included a double bogey 6 at the 10th. She had take a triple bogey 7 there in the first-round 76. Clare had four birdies in her third-round 70 but only one, at the 13th, in the final round in which she had bogeys at the fourth and 12th apart from the 6 at the 10th.
Jenna Wilson was a bit erratic in her final round of 73 for a total of 294 which gave her a share of 46th place. The Strathaven player had birdies at the third, ninth and 15th but dropped shots at the second, foufrth, 11th, 13th and 14th.
Labels: LADIES EUROPEAN TOUR