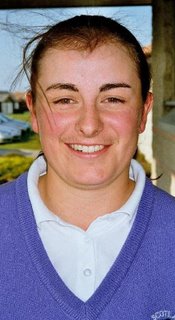 Clare Queen in top 20 with one
round to go in Italian Open
FROM THE LADIES' EUROPEAN TOUR WEBSITE
With additonal information from Colin Farquharson
Clare Queen

will be rueing a triple bogey and a double bogey, both in her first-round 76, as she moves into Sunday's final round in joint 19th place at the BMW Ladies Italian Open in Tuscany.
The Scot, playing out of The Carrick at Cameron House, has climbed up the leaderboard with subsequent rounds of 71 and 70, her third round including four birdies, for a running total of 217.
Clare, picture right by Cal Carson Golf Agency (all rights reserved), starts the final day 11 shots behind
Germany's Martina Eberl who shot a four-under-par 67 in tricky conditions to seize the third round lead.
The 26-year-old from Munich finished the day two ahead of the field on a total of seven-under-par 206. Overnight leader Gwladys Nocera from France shared second with Denmark's Lisa-Holm Sorensen on five-under-par while first round leader Maria Hjorth from Sweden and Becky Brewerton from Wales were a shot further back in a share of fourth.
Hot and humid conditions, combined with a swirling wind at Argentario Golf and Spa Resort, tested Eberl's persistence. "It was all about patience today," said Eberl. "Today was a totally different golf course because the wind came from the other direction and I think it was a tougher wind."
Last year's Madrid Ladies Masters champion posted six birdies and two bogeys in total, with three birdies in her opening four holes. "I was very fortunate with my start. I just tried to stay calm. I didn't hit the ball well but I somehow managed to stay on the green and I putted really well today," she added.
"The wind is tricky because it swirls in the trees and you think it's one way but then it's downwind. It is rarely a straight wind so you always have to judge it a little bit and I think that's what makes it tough."
Nocera, the current European number one, struggled to find the correct yardage in the wind and shot a two-over 73. "I played well but with the wind I was too long, too short, too much left and too much right," said the seven-time LET winner.
"It was a different wind again so it was hard to figure out how strong it was."
As one of the most experienced players in the field, Nocera was looking forward to the challenge of trying to secure a third LET title this season. "I have nothing to lose. I'm playing well so I can shoot low tomorrow," she said.
Sorensen, whose sole LET victory came in the 2005 Finnish Masters, shot a one-under 70 but also struggled with her distance control. "I hit it close to the pin at times but I also struggled with my length. I think the key was my short game and my putting," said Sorensen.
Having been in contention on a number of occasions, Sorensen was keeping her emotions in check.
"I'm going to take it as it comes, just go out there and focus on the pars. I think a par is a good score," she said.
Par 213 (3 x 71)
206

M Eberl (Ger) 65 74 67.
208

L H Sorensen (Den) 68 70 70, G Nocera (Fra) 65 70 73.
209

B Brewerton (Wal) 66 71 72, M Hjorth (Swe) 64 73 72.
210

G Simpson (Eng) 70 69 71.
213 T Elosegui (Spa) 70 68 65, S Corce (Ita) 69 73 71, C Hallstrom (Swe) 70 71 72, L Fairclough (Eng) 70 70 73.
Other scores:
215 S Head Eng) 74 70 71 (jt 13th).
217

C Queen (

The Carrick at Cameron House) 76 71 70 (jt 19th).
218 L Hall (Eng) 72 76 70 (jt 21st).
219 T Johnson (Eng) 71 71 77 (jt 31stl;
221 J Wilson (Strathaven) 74 75 72, K Matharu (Eng) 73 73 75 (jt 42nd).
222 N C Booth (Eng) 72 74 76 (jt 49th.
224 E Pilgrim (Wal) 72 78 74, R Coakley (Ire) 71 76 77 (jt 57th).
Labels: LADIES EUROPEAN TOUR