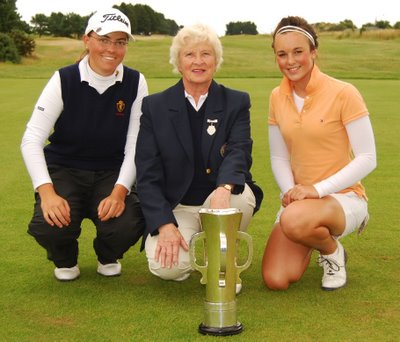 Laura Gonzalez-Escallon, LGU president Joan Neville and Kelly Tidy on the first tee before the final at Monifieth.
Birdie-birdie burst puts Kelly on
level terms in British final

Manchester's Kelly Tidy showed the class that has earned her selection to the European Junior Ryder Cup team by birdieing the eighth and ninth to get on level terms with the top seed, Laura Gonzalez-Escallon, in the final of the British girls' open amateur championship at a very still Monifieth Links.
The first three holes were halved in par before the 17-year-old Laura from Brussels stepped up a gear to birdie the long fourth and short fifth.
Sixth seed Kelly, beaten in last year's final and still only 16, managed to halve the fourth in 4s but she could not match her opponent's 2 at the fifth.
Tidy then birdied the par-4 eighth and the par-5 ninth to wipe out the Belgian's lead.
The eighth hole was the first lost by Laura all day. She had been five under par in beating Israel's Laetitia Beck without losing a single hole.
Laura had also not bogeyed a hole all day after nine holes of the final and 15 holes in the morning semi-final.
Kelly was not far behind that standard with only one bogey - at the 11th - in the semi-final by 5 and 3 win with three under par figures against Spain's Mandy Goyos, daughter of a Manchester woman.
The 10th hole was halved in 4s as both players sought to edge ahead going into the home straight.
LATER:
Laura Gonzalez-Escallon birdied the short 11th to go one up.
Labels: Girls