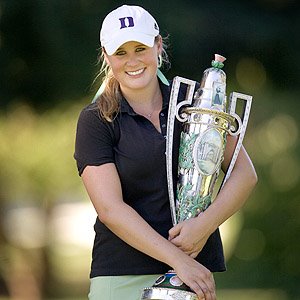 Only week late, but here's a report (from the United States Golf Association website) on the US women's amateur championship final in which Curtis Cup player Amanda Blumenherst beat Spain's Azahara Munoz.
Amanda goes one better in US
amateur championship final
By BETH MURRISON
Eugene, Ore. – Amanda Blumenherst, 21, of Scottsdale, Arizona, added a national championship to her impressive amateur résumé after winning the 2008 U.S. Women's Amateur at the 6,516-yard, par-72 Eugene Country Club.
Blumenherst, the three-time national collegiate player of the year, earned a 2-and-1 victory over the reigning NCAA Division I individual champion, Azahara Munoz, 20, of Spain in the 36-hole final.
With the victory, Blumenherst, pictured with the championship trophy (from the USGA website), became the sixth in history to win the U.S. Women's Amateur the year after losing in the final. She lost the 2007 championship final by one hole to Colombia's Maria Jose Uribe.
Azahara Munoz came up just short of becoming the second player to win an NCAA and Women's Amateur title in the same year.
"I'm so excited," said Blumenherst of winning her first USGA title. "Last year was really tough, not winning, and having to kind of deal with it all year, getting reminded of it. And so I feel this kind of erases that, and now when people talk to me about the U.S. Am, instead of 'my condolences,' it will be 'congratulations, you played great.' So I'm just thrilled."
Munoz won two of the first three holes of the scheduled 36-hole final with pars when Blumenherst lipped out a 5-foot par putt on No. 2 and a 3-foot par putt on the third hole. Blumenherst was able to square the match with a 12-footer for birdie on the 15th hole, but missed a 7-foot par putt on No. 18 to give Munoz a 1-up lead heading into the break.
Both players were the equivalent of even par (with concessions) for the morning round, but Munoz knew Blumenherst would step up her level of play after lunch.
"She didn't play that great [in the morning], but she had ups and downs from everywhere," said Munoz, a senior-to-be at Arizona State University. "She played like that all day. She made pars, pars, pars, and when she hit the green she made birdie. She played really good. She saved everything."
But Munoz continued to hold her lead as the afternoon round got underway. She returned the advantage to two holes when Blumenherst missed a 6-foot par putt on the first hole of the afternoon round. Blumenherst cut it to a one-hole deficit with a birdie on No. 3, but Munoz chipped in from 50 feet from the back fringe on No. 5 to regain her two-hole lead. Blumenherst responded on the 24th hole with a birdie on the par-5 sixth, when she putted from above the green to 5 feet and converted her birdie putt. Munoz, whose third shot landed within 3 feet of the flagstick, pushed her birdie attempt right, cutting her lead to one hole..
For Blumenherst, playing in last year's Women's Amateur final had taught her the importance of patience.
"If I hadn't had last year's experience I might have given up a little bit or tried to force something to happen," said Blumenherst. "So I thought, 'all right, this is not a big deal, I can get it back.' And I made a birdie on 10 and it was all square."
On the par-4 10th, Blumenherst's second shot from 155 yards landed 6 feet from the hole and she was able to convert her birdie putt. Munoz's 14-foot birdie attempt burned the right edge of the hole, squaring the match.
After hitting her tee shot into the right rough on No. 13, the 31st hole of the match, Blumenherst hit her second shot across the fairway under a tree in the left rough. Munoz, whose drive was in the fairway, hit her second shot into a greenside bunker in front of the green.
Her sand shot sailed over the green, leaving a difficult shot down toward the hole. She was able to pitch back to 9 feet but left her par attempt short, allowing Blumenherst to make her 3-foot par putt to take her first lead of the day.
"Azahara really hadn't made any mistakes, I guess, the entire day," said Blumenherst, who is entering her senior year at Duke University. "And we both were playing pretty well, but those long bunker shots are tricky. But definitely I could feel the momentum turning."
After halving the next two holes with pars, Blumenherst increased her lead to 2 up on the par-5 16th when she safely two-putted for birdie from 35 feet and Munoz's 15-footer for birdie missed to the right.
A hole later, the 35th of the match, Blumenherst was finally the U.S. Women's Amateur champion after making a 5-footer for par after hitting her approach shot in the bunker. Munoz lipped out her 6-footer for birdie that would have extended the match.
After the victory, Blumenherst admitted how much adding her name to the Robert Cox Cup, the beautiful trophy awarded to the U.S. Women's Amateur champion, meant to her.
"I wanted this so much," said Blumenherst, who has played in three U.S. Women's Opens and represented the USA on two victorious Curtis Cup teams.
"I think I would have been crushed if I hadn't won it, especially going to the finals again. This match was huge. Going into this tournament, I knew this was my last really amateur event and I wanted to play well. I wanted to kind of prove to everyone that I wasn't overrated or that those awards that I had gotten in college weren't kind of a coincidence or something that was given to me. I wanted to show everybody that this is the place I earned."
Munoz was trying to achieve a rare double in winning the NCAA and Women's Amateur titles in the same year. Vicki Goetze, who won both in 1992, remains the only player to accomplish the feat.
"Well, I mean I'm happy because I played good, but obviously I'm sad because I lost," said Munoz, who was trying to become the first USGA champion from Spain. "I gave my best, and that's all I could do."
Amanda Blumenherst plans to turn professional immediately after the NCAA college championship finals next spring.

Results of the later ties at the Eugene Country Club (6,516yd, par-72):
QUARTER-FINALS
Azahara Munoz (Spain) bt Stephanie Na (Canada) 7 and 6.
Belen Mozo (Spain) bt Whitney Nehauser (Virginia) 6 and 5.
Amanda Blumenherst (Arizona) bt Carlota Cigana (Spain) 4 and 3.
Erynne Lee (Washington) bt Chelsea Stelzmiller (California) 4 and 3.
Munoz bt Mozo 4 and 3.
Blumenherst bt Lee 3 and 2.
Blumenherst bt Munoz 2 and 1.
**Earlier in the match-play stages, Welsh Curtis Cup player Breanne Loucks beat Michelle Shin (Florida) 2 and 1 in the first round but lost by two holes to Tracey Nichols from California) in the second round.
Irish-born US Curtis Cup player Alison Walshe (Massachusetts) lost at the 19th to Chelsea Stelzmiller (California) in the second round.
Final (36 holes) Blumenherst bt Munoz 2 and 1l.
Labels: Amateur Ladies