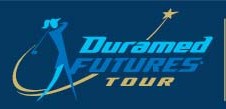 Vikki clickety-clicks with a 66
for
joint second at Richmond
Vikki Laing from Musselburgh shot her lowest round of the US Duramed Futures Tour season to be lying joint second after the first day of the Greater Richmond Classic at Richmond Country Club, Virginia.
The Scot compiled a six-under-par 66 with an eagle 3 at the ninth and birdies at the third, eighth, 12th, 15th and 18th in halves of 32 and 34. She had one bogey at the 17th but finished on a high by holing a 40ft uphill putt for a birdie 3 at the last.
Her eagle was achieved by holing a 30yd bunker shot. Apart from the 18th, her longest birdie putts holed were from 15ft on the eighth and 12th.
Vikki appears to be running into form in time for next week's defence of the Gettysburg Championship in which she scored her only victory as a professional last year.
"I seem to be playing better towards the end of the Futures Tour season," Laing said. "My putter worked really well today, so that's always good, even if you're not hitting it that great
."
Pamela Feggans from Patna, Ayrshire, the other Scot on the No 2 women's pro tour in the United States, is back in joint 121st position in a field of 144.
She had a five-over-par 77 over the 6,271yd course. She saddled herself with a double bogey 5 at the short second and another shot dropped at the seventh. Pamela did claim back two shots with back to back birdies at the eighth and ninth to turn in one-over-par 37.
Then she had another poor run with bogeys at 10, 12, 13 and 14. A birdie at 16th stopped the rot only momentarily as she bogeyed the last for an inward half of four-over 40.
Brenda McLarnon from Belfast had a 76 (37-39) to be in joint 112th position.
South Korean rooki Haeji Kang leads with a seven-under-par 65 (33-32)
HOW THEY STAND
Par 72
Players from US unless stated
65 Haeji Kang (SKor) 33-32.
66
Vikki Laing
(Sco) 32-34, Nicole Hage 32-34.
68 Sam White 34-34, Jenny Gleason 32-36, Jessica Yadloczky (am) 34-34, Sarah Lynn Sargent 34-35, Stacy Lewis 35-33, Vicky Hurst 34-34, Angela Buzminski (Can) 34-34.
Other scores:
76 Brenda McLarnon (NIr) 37-39 (jt 112th).
77
Pamela Feggans
(Sco) 37-40.
Labels: FUTURES TOUR