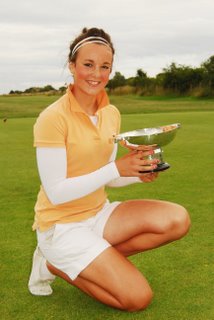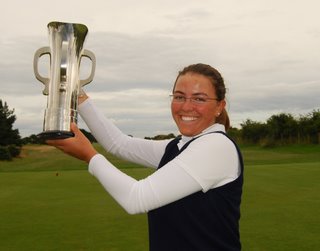 Laura from Brussels is new British
girls
champ

Laura Gonzalez-Escallon from Brussels has become the fifth Continental player in the past six years to win the British girls open amateur championship.
The No 1 qualifier, Laura, whose unusual surname comes from a Colombian father, beat the No 6 seed, Kelly Tidy (Royal Birkdale) by 2 and 1 in the final.
The bespectacled Belgian player, who had a run of 26 successive holes without a bogey from the start of her morning semi-final against Laetitia Beck (Israel) until the 11th hole of the final, was two under par for the 17 holes, having been five under par in winning against the unfortunate Laetitia.
It was the second year in a row that Kelly, 16 years old from Manchester, had lost in the final.
I cheered Kelly up by telling her that I knew of a Scottish girl who also lost two successive British girls' championship finals but went on to play in two Curtis Cups, two Vagliano Trophy matches, be a member of a winning Commonwealth Trophy team and win the world better-ball women's championship with Helen Dobson in Brazil.
So, disappointing though it is to be 0 and 2 in British girls' finals, it is not the end of the world by any means. Kelly does have something special to look forward to next month - the Junior Ryder Cup match in Kentucky, so she will get over it more quickly than otherwise.
The first three holes were halved in par before the 17-year-old Laura from Brussels stepped up a gear to birdie the long fourth and short fifth.
Kelly managed to halve the fourth in 4s but she could not match her opponent's 2 at the fifth.
Tidy then birdied the par-4 eighth and the par-5 ninth to wipe out the Belgian's lead.
The eighth hole was the first lost by Laura all day. She had been five under par in beating Israel's Laetitia Beck in the morning without losing a single hole.
Kelly was not far behind that standard with only one bogey - at the 11th - in her semi-final win by 5 and 3 win with three under par figures against Spain's Mandy Goyos, daughter of a Manchester woman, Angela (Ball)
The 10th hole was halved in 4s as both players sought to edge ahead going into the home straight.
Gonzalez-Escallon got her third birdie of the final - a 2 at the short 12th - to regain a one-hole lead but Tidy kept responding and she was back on terms at the next where the Belgian player's 5 at this par-4 hole was her first bogey of the day .... the end of a run of 26 consecutive holes without a bogey.
It was Tidy's turn to bogey at hole, only her second of the afternoon, the short 14th and that put Gonzalez-Escallon back into a one-hole lead with four holes to play.
The 15th and 16th were halved.
Tidy drove into the left rough at the 17th and recovered to about eight yards from the pin. But she took three shots to get down from there for a bogey 5 to her opponent's cast-iron par 4.
And so the title was won by Laura Gonzalez-Escallon by 2 and 1.
For once, unquestionably the best player in the field won the title. That is not always the case in match-play.
It was the Belgian who conquered the last surviving Scot, Eve Muirhead (Pitlochry) earlier in the tournament and Eve said after that tie, that Laura was the complete player ... very long and straight off the tee, hardly missed a fairway or a green, and was a great putter.
WHAT THE FINALISTS HAD TO SAY
LAURA GONZALEZ-ESCALLON.
I won two big amateur tournaments in Belgium last month, one was a women's event and the other was the Belgian girls championship.
So I came to Scotland in good form - and I played well right from the start ... leading the qualfiers ... under par in all my ties.
(She was two under par in both matches on Thursday and five under and two under par today).
I only had one bogey all day today so that is very good for match-play.
I have another year at school in Belgium but I would like to go to an American university. Nobody has made me an offer yet.
After college, I think I will want to be a tour professional.
KELLY TIDY
I'm disappointed but I gave it my best shot. Laura is a very, very good player. It's difficult to beat somebody in match-play if they don't make mistakes ... and she made only one bogey against me (and none in the semi-final).
And what a phenomenal putter she is. I've never played with or against any girl who could keep holing putts like that.
Labels: Girls