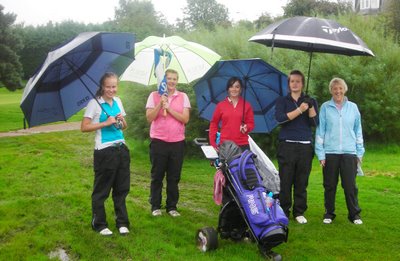 Swinging in the rain at Craigmillar Park. Left to right: Gabrielle Macdonald with caddie Gillian Simpson, Nicky Taylor (caddie of Rachael Watton), Rachel Watton and Maggie McPherson, chairman of East Girls.

You can enlarge the images by clicking on them.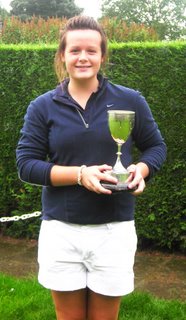 Rachel Watton beats Gabrielle
Macdonald
in final of East
girls' championship
Rachael Watton of Mortonhall, won the East of Scotland girls' championship at Craigmillar Park Golf Club today.
She beat Gabrielle Macdonald of Craigielaw by 4 and 3 in the final.
To reach the final, Rachael beat Nicola Taylor of Thornton by two holes and Gabrielle beat Gillian Simpson of Murrayfield at the 19th.
The conditions the girls had to play in all day could not have been any worse. It never stopped raining.The standard of golf was excellent throughout the final in spite of the heavy rain and very wet conditions underfoot.
Gabrielle won the first but Rachael got back on level terms with a birdie at the second. Rachael edged ahead by winning the fourth and fifth holes but Gabrielle had a birdie at the eighth to reduce the deficit to one hole.
Rachael went two up again with a birdie at the 10th and then three ahead at the short 11th.
The next two holes were halved. Gabrielle lost the 14th after trouble off the tee which meant a penalty shot and she eventually conceded the hole for Rachael to go four up.
At the par 3 15th both girls had excellent tee shots over the burn to the green. Rachael secured her title-clinching par, Gabrielle just missing a birdie 2.
+Rachael Watton is pictured with the trophy.
Labels: Girls