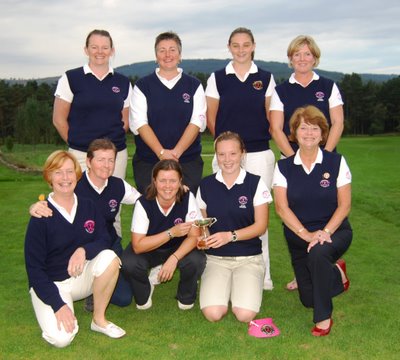 Runners-up Renfrewshire with their team captain Christeen Finlayson on the right of the front row. Eilidh Briggs is missing, having left to join the Scottish schools team at Royal Lytham & St Annes. (Cal Carson Golf Agency image, all rights reserved). Click on the images to enlarge them.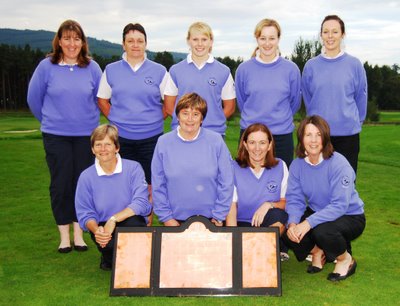 We are the champions of Scotland! Fife captain Joan Blyth with her title-winning team at Inchmarlo Golf Resort, Banchory (Cal Carson Golf Agency image, all rights reserved).
FIFE ARE SCOTTISH COUNTY CHAMPIONS
Fife survived a last-day wobble to win the Scottish women's county golf championship at Inchmarlo Golf Resort, Banchory today.
Fife completed the three-day programme with three match wins out of three, clinching the title by beating Perth & Kinross 5-4 after earlier wins by 7-2 over Borders and 6-3 against Renfrewshire.
Perth & Kinross looked as though they might upset the Fife flow towards the title when they took the foursomes 2-1 but wins in the singles by Louise Kenney, Fiona Hastie, Elaine Moffat and Lorna Bennett took Fife over the winning line.
Renfrewshire, who beat Borders 7-2 in their final match, finished runners-up.
Fife last won the title at The Hirsel in 2006 and before that at Prestonfield in 1995 and Dumfries & County Golf Club in 1975.
The most successful competitors over the three-day programme were Fiona Hastie for Fife and Megan Briggs for Renfrewshire. Both gained 5 1/2pt out of a possible 6.
Close behind was Eilidh Briggs (Renfrewshire) with 5 out of 6 and two players with 4 1/2pt from only five outings, Elaine Moffat (Fife) and Perth & Kinross youngster Annabel Niven.
Next year's Scottish county championship finals will be hosted by Baberton Golf Club, Edinburgh.

Today's details:
RENFREWSHIRE 7, BORDERS 2
Foursomes:
M Briggs & E Briggs bt J Anderson & K Inkpen 2 and 1; G McGinlay & G Kyle halved with A Dods & A Melvin; D Jackson & L Stewart halved with L Campbell & I Craigie (2-1).
Singles:
M Briggs bt Melvin 4 and 3, E Briggs bt Inkpen 3 and 2, Jackson bt Dods 7 and 5, S McCorkell bt G Oliver 5 and 4, A McKechin bt Campbell 5 and 3, McGinlay lost to Craigie 4 and 3 (5-1).
PERTH & KINROSS 4, FIFE 5
Foursomes
: E Ogilvy & F Ramsay halved with J Carthew & L Kenney; A Bushby & A Niven halved with F Hastie & E Moffat; L Walker & E Muirhead bt S Jackson & K Sharp 2 holes (2-1).
Singles:
Ogilvy lost to Kenney 3 and 2, Bushby lost to Hastie 4 and 3, Niven bt Carthew 2 and 1, C Muir lost to Moffat 3 and 1, Muirhead lost to L Bennett 3 and 2, Walker bt Sharp 3 and 2 (2-4).
HOW THEY FINISHED
1 Fife 3 wins.
2 Renfrewshire 2 wins 1 loss.
3 Perth & Kinross 1 win 2 losses.
4 Borders 3 losses.
Labels: Amateur Ladies