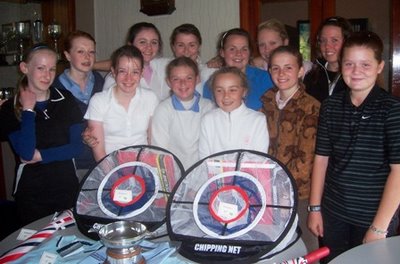 Ayrshire girls who took part in the St Nicholas Trophy competition (images by June Kerr).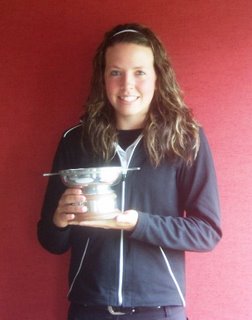 Rachael McQueen retains
St Nicholas Trophy
Rachael McQueen (Troon Ladies) has successfully defended the St Nicholas Trophy for Ayrshire girls at Ardeer.
Rachael,
pictured right with the trophy by courtesy of June
Kerr, Ayrshire girls
, had an excellent net 67 to win by five strokes from closest challenger Mhairi McKay. The CSS on the day went up one to 72.
Rachael's gross 68 makes her the qualifier for the Daily Telegraph competition.
Results:
ST NICHOLAS TROPHY
At Ardeer.
SILVER
1 Rachael McQueen (Troon Ladies) (1) 67.
2 Mhairi McKay (West Kilbride) (10) 72.
BRONZE
1 Grace Mackie (Troon Ladies) (24) 74.
2 Rachel Irvine (Largs) (24) 75.
Labels: Girls