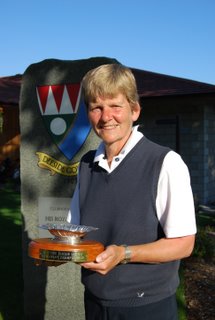 Senior Scots need major
improvement in Holland

Scotland will need to make a major improvement from 10th place overnight if they are to qualify for the championship match-play flight of the European senior women's amateur team golf championship at Wouwse Plantage Golf Club in Holland.
None of the Scots broke 80 in the first qualifying round.
Lorna Bennett (Ladybank),
pictured right by Cal Carson Golf
Agency (all rights reserved),
came closest with an 81, one ahead of Fiona Hunter (Baberton) with Jill Harrison (Cruden Bay) and Fiona De Vries (St Rule), both on 84, Margaret Tough (Falkirk) on 87 and Mary Smith (Tain) 88.
Discarding one score, the Scots had a first-round total of 418 compared with Italy (397), Sweden (397), England (398) and Spain (398) who occupy the top four positions after the first round.
Only the leading four teams after the second qualifying round will make up the championship match-play flight. The other teams will go into lower match-play flights.
(best five from six scores to count)
397
Italy, Sweden.
398
England
(77 C Quinn. 79 C Stirling, C Watson. 80 S Dye. 83 B Laird. 84 J Collingham), Spain.
399
France.
403
Ireland
(78 H Jones. 80 M Madden. 81 S O'Brien Kenney, M Henderson. 83 V Hassett. 88 V McBride).
409
Belgium.
413
Netherlands.
414
Germany.
418
Scotland
(81 L Bennett. 82 F Hunter, 84 J Harrison, F De Vries. 87 M Tough. 88 M Smith).
422
Switzerland.
423
Denmark.
427
Austria.
432
Finland.
Labels: Senior ladies