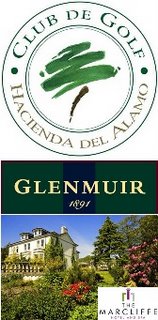 Mary McKenna is first entry for
2009 Hacienda del Alamo
Women's Winter Festival
The Irish, who were the strongest supporters of the Hacienda del Alamo Women's Winter Festival in February this year, have set the ball rolling for the 2nd HDA WW Festival from February 11 to 17, 2009.
And what a pleasure it is to welcome Ireland's legendary lady amateur golfer,
Mary
McKenna
, recently reappointed captain of the GB&I team for the 2009 Vaglian Trophy match and the 2010 Curtis Cup match in America.
"I'm looking forward to playing what will be a new venue for me in Spain and also to playing in some winter sunshine," says Mary, a member of the Donabate club, Dublin.
Two other Donabate members - Patricia Morris and Fionnuala Forde - have joined Mary McKenna in sending in the first entries for the 2009 Festival.
Mary makes no secret of the fact she is old enough to play in seniors' golf, well, she couldn't, given the number of trophies, etc she has won in over-50s tournaments after a splendid career as an international amateur golfer in the 1970s-80s-90s.
And the 2009 HDA WW Festival will have prizelists for seniors.
Where is the five-star Hacienda del Alamo Golf Resort?
Near the town of Fuente Alamo and the city of Murcia in the south-east region of Spain.
Which airport should you fly to?
Definitely Murcia Airport which is about 20min away from Hacienda del Alamo Golf Resort by car or taxi. You can fly to Alicante Airport but that is more than a 60min car journey away from Hacienda del Alamo Golf Resort.
Any more questions about Hacienda del Alamo Golf Resort and the 2009 Women's Winter Festival? Send them to
Colin@scottishgolfview.com
Labels: 2009 HDA FESTIVAL, HDA FESTIVAL