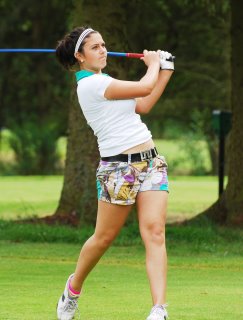 A sparkling field for Duke of York
Young Champions' Trophy
PRESS RELEASE
From Junior Open champions to Carris Trophy winners via +3 handicappers, The 2008 Duke of York Young Champions' Trophy field at Dundonald Links has it all.
Stiggy Hodgson, the English boys' champion and reigning British Junior Open champion Moriya Jutanugarn will be looking to follow in the footsteps of Tour sensation and former champion Oli Fisher, as they head up one of the strongest junior fields ever gathered for the 2008 Duke of York Young Champions' Trophy.
With 55 competitors from 30 different countries worldwide, the eighth staging of junior golf's pre-eminent international tournament is set to be the most exhilarating so far. The action tees off at Dundonald Links, Ayrshire from September 16-18.
Hodgson, who plays out of Sunningdale, will be looking to cap off a remarkable year in which he's been compared to the great Tiger Woods, after he defied the pain of a ruptured knee ligament to claim both the Peter McEvoy and Carris trophies.
However, the chances of a first female tournament winner look strong with Thailand's Jutanugarn joined by 2007 leading lady Giulia Molinaro from Italy, current British and Belgian girls champion Laura Gonzalez-Escallon and Scotland's very own Under-21 girls' stroke-play champion
Kelsey McDonald, pictured above by Cal Carson Golf Agency (all rights reserved).
When you add Russia's Anna Verchenova, whose sister Maria is currently lighting up the Ladies European Tour, to the mix you get an idea of just what the boys are up against.

The 13-year-old Jutanugarn has already broken one barrier this summer by becoming the first girl to win the R&A's Junior Open. Despite having never seen a links course before, the Thai Girls' champion took to the gales of Hesketh like a seasoned veteran and is relishing a return to seaside golf.
With Japan, Israel and Thailand all participating for the very first time, the 54-hole stroke play event has once again managed to extend its global appeal. The Duke of York Young Champions Trophy, which was created by HRH The Duke of York and former Nick Faldo manager, John Simpson, is a unique, international tournament open to both boys and girls who hold their Under-18 national title or have won another major golfing title in the preceding 12 months.
"I am excited by the prospect of watching such a talented group of junior golfers face up to the challenges presented by a links course of Dundonald's stature," comments the Duke of York. "It is a real testament to the tournament's ever-increasing reputation around the world."
HRH Prince Andrew will attend the tournament and host the official dinner.
Blue could once again be the colour to watch out for as Italy returns with defending champion Claudio Vigano, leading 2007 lady Giulia Molinaro, who finished just two shots adrift of her compatriot, and the field's back marker Cristano Terragni, off a handicap of +3.2.
Vigano who played flawless golf for two rounds in 2007, managed to keep his nerve during a windswept final day with a birdie at the last securing his triumph.
Walker Cup hopeful Matt Haines was the highest-placed Briton with a final round 76 placing him ninth
.

Kyle Phillips' devilishly difficult Dundonald Links is the venue for the third year in a row, just a week after it hosts the European Tour Qualifying School First stage. Lyle Anderson Company Inc, owners of Loch Lomond, purchased the course in 2003 and Phillips, designer of Kingsbarns, made a number of alterations in 2003.
With Oli Fisher, Pablo Martin, Carly Booth, Sam Hutsby and Zac Gould among the former winners and combatants The Duke of York Young Champions' Trophy tournament has a truly impressive history of highlighting the stars of the future.
For Media enquiries please contact Luke Norman on 0203 1484529 or email
luke_norman@ipcmedia.com
For further information on The Duke of York Young Champions' Trophy please visit
http://www.doy-champions.com/
For more information on Dundonald Links please go to
http://www.dundonaldlinks.com/
FIELD OF CHAMPIONS
56 from 28 countries
31 boys & 25 girls
Austria
Christoph Weninger
Ireland
Paul Dunne
Belgium
Cédric van Wassenhove
Laura Gonzalez Escallon

Italy

Claudio Viganò
Cristiano Terragni
Giulia Molinaro
Canada
Mitch Sutton
Soo Bin Kim
Japan
Shingo Ito
Miki Sakai
Czech Rep.
David Prochazka
Latvia
Karlis Broders
Krista Puisite
Denmark

Max Melby
Julie Finne-Ipsen

Norway
Elias Bertheussen
Tonje Daffinrud
England
Stiggy Hodgson
Gary King
Hannah Barwood
Sarah Tyson
Russia
Anna Verchenova
Finland
Tapio Pulkkanen
NooraTamminen
Scotland

Mark Bookless
Kelsey MacDonald
France
Arnaud Abbas
Clémence Abrahamian
South Africa
Conway Kunneke
Michelle Leigh
Germany
Max Kraemer
Sebastian Schwind
Marcel Scheinder - tbc
Nicola Rössler - tbc
Spain
Carlos Pigem Xammar - tbc
Greece
Violetta Siozou
Sweden
Eric Blom
Robin Kokocinski
Emelie Lunström
Holland
Teemu Bakker
Caroline Karsten
Marieke Nivard

Switzerland
Victor Honauer
Anäis Maggetti
Hungary
Daniel Kovare
Thailand
Vasin Sripattranusorn
Moriya Jutanugarn
Iceland
Haraldur Magnus
Signy Arnorsdottir
Turkey

Güray Yazici
Elçin Ulu
Israel
Asaf Cohen
Laetitia Beck
Wales

Ross McLister
Amy Boulden