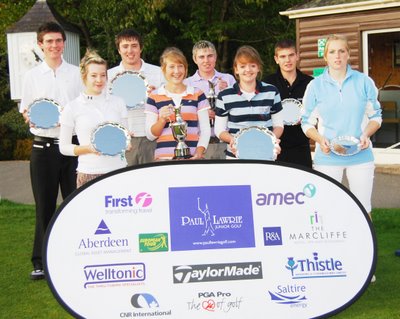 Boys (left to right): David Millar, Adam Dunton, Ryan Bain, Ryan Gordon. Girls (left to right): Louise McGillivray, Megan Clyne, Sophie Alexander, Mhairi Johnstone (Image by Cal Carson Golf Agency). You can enlarge it by clicking on the image.
Ryan Bain & Megan Clyne are
Paul Lawrie junior champions
Ryan Bain, a 16-year-old member of the Strathlene club, Buckie, and 15-year-old Deeside member Megan Clyne won the individual titles at today's Paul Lawrie Foundation junior match-play semi-finals and finals at Banchory Golf Club.
Bain, an apprentice electrician, set the sparks flying by beating the favourite, Adam Dunton (McDonald Ellon), recent winner of the UBC boys' championship at Inverness, 2 and 1 in the final.
Ryan jumped into an early two-hole lead and was still two up at the turn. Dunton fought back well but couldn't make up the ground he had lost and a good match finished on the 17th green.
In an all-Deeside final, Megan Clyne beat Sophie Alexander by one hole. Sophie had won the first three holes but Megan got back on level terms at the 10th.
Clyne won the 12th and 13th to lead for the first time but Sophie won the 14th and 15th to square the tie. Clyne got her nose in front again by winning the 16th and the last two holes were halved.
Alexander's 20ft putt at the 18th to take final into extra holes lipped out.
Paul Lawrie was unable to make the presentations because he made it through to the last day of the British Masters at The Belfry.
Today's details at Banchory:
BOYS
Semi-finals
- Adam Dunton (McDonald Ellon) bt David Millar (Oldmeldrum) 3 and 2, Ryan Bain (Strathlane) bt Ryan Gordon (Alford) 3 and 2.
Final
- Bain bt Dunton 2 and 1.
Third place play-off
- Millar bt Gordon 6 and 5.
GIRLS

Semi-finals
- Megan Clyne (Deeside) bt Mhairi Johnstone (Northern) 4 and 3, Sophie Alexander (Deeside) bt Louise McGillivray (Banchory) 2 and 1.
Final
- Clyne bt Alexander 1 hole.
Third place play-off
- McGillivray bt Johnstone 1 hole.
PICTURES OF THE PRIZEWINNERS WILL BE DISPLAYED LATER THIS EVENING.