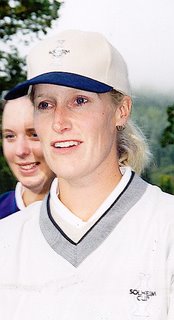 Janice Moodie leads LPGA Tour
event at halfway
Glasgow exile Janice Moodie, without a win on the US LPGA Tour since 2002, leads by one shot from world No 1 Lorena Ochoa after two rounds of the Navistar LPGA Classic
The Mexican's losing run dates back only as far as May.
Ochoa had seven birdies en route to a five-under 67 and a 12-under total of 134.
Moodie,
pictured right by Cal Carson Golf Agency,
starting at the 10th, birdied five of her first nine holes on her way to a five-under 67 for 133.
Moodie's last victory on the LPGA Tour came at the Asahi Ryokuken International Championship six years ago but the Scot said it was too soon to focus on ending that winless run.
"I'm just enjoying the moment right now and trying to keep everything smooth and trying to keep the putting stroke smooth, the golf swing going smooth, and I'll get to that on Sunday," Moodie said.
American Jill McGill, part of a trio sharing the lead after the first round, fired a three-under 69 to join Ochoa on 134.
SECOND ROUND TOTALS
RTJ Golf Trail, Capitol Hill's The Senator,
Prattville, Alabama
Par 144 (2 x 72)
133
Janice Moodie
(Sco) 66 67
134
Jill McGill 65 69, Lorena Ochoa (Mex) 67 67
135
Michele Redman 70 65
136
Song-Hee Kim (Kor) 68 68, Christina Kim 70 66
137
Ji-Young Oh (Kor) 67 70, Ya-Ni Tseng (Kor) 71 66, Cristie Kerr 66 71
138
Michelle Ellis 71 67, Louise Friberg (Swe) 67 71, Teresa Lu (Tai) 70 68, Na On Min (Jpn) 71 67, Mikaela Parmlid (Swe) 69 69, Shanshan Feng (Chn) 68 70
139
Taylor Leon 69 70, Jane Park 65 74, In Kyung Kim (Kor) 72 67, Sarah Jane Kenyon 70 69
140
Sherri Turner 69 71, Gloria Park (Kor) 70 70, Karrie Webb (Aus) 72 68, Becky Morgan (Wal) 71 69, Angela Park (Bra) 71 69, Karin Sjodin (Swe) 71 69, Karine Icher (Fra) 70 70, Katherine Hull (Aus) 70 70
141
Wendy Doolan (Aus) 68 73, Mi-Hyun Kim (Kor) 69 72, Eunjung Yi (Kor) 71 70, Nicole Hage 70 71, Sandra Gal (Ger) 67 74, Candie Kung (Tai) 69 72, Jeong Jang (Kor) 65 76, Hee Young Park (Kor) 72 69
142
Marisa Baena 73 69, Giulia Sergas (Ita) 72 70, Karen Stupples (Eng) 70 72, Hee-Won Han (Kor) 72 70, Katie Futcher 67 75, Heather Daly-Donofrio 72 70, Meredith Duncan 71 71
143
Joo Mi Kim (Kor) 71 72, Shi Hyun Ahn (Kor) 73 70, Reilley Rankin 72 71, Wendy Ward 75 68, Sarah Lee 70 73, Kim Hall 69 74, Dorothy Delasin 71 72, Julieta Granada (Par) 73 70, Michelle McGann 69 74, Rachel Hetherington (Aus) 70 73, Lisa Strom (Gbr) 70 73, Allison Fouch 73 70
144
Johanna Head (Eng) 76 68, Becky Lucidi 73 71, Il Mi Chung (Kor) 73 71, Meena Lee (Kor) 73 71, Jamie Hullett 73 71, Maria Hjorth (Swe) 76 68, Lee Ann Walker-Cooper 75 69, Jee Young Lee (Kor) 74 70, Ashleigh Simon (Rsa) 75 69, Mollie Fankhauser 70 74, Jimin Kang (Kor) 74 70, Carri Wood 73 71, Alena Sharp (Can) 74 70, Amy Hung (Tha) 72 72
145
Stacy Prammanasudh 73 72, Irene Cho 71 74, Eun Hee Ji (Kor) 71 74, Patricia Meunier-Lebouc (Fra) 73 72, Morgan Pressel 78 67, Beth Allen 72 73, Anna Grzebien 73 72, Su A Kim 73 72, Charlotte Mayorkas 70 75, Brittany Lang 76 69, Jackie Gallagher-Smith 70 75, Sung Ah Yim (Kor) 75 70, Soo-Yun Kang (Kor) 70 75, Hwa seon Lee (Kor) 76 69
146
Young-A Yang (Kor) 73 73, Sun Young Yoo (Kor) 77 69, Kelli Kuehne 74 72, Kristy McPherson 77 69, Anna Rawson (Aus) 76 70, Kris Tamulis 74 72, Carolina Llano 74 72, Jimin Jeong 75 71, Meaghan Francella 74 72, Paige Mackenzie 71 75, Angela Jerman 72 74, Sarah Kemp (Aus) 72 74
147
Kim Welch 70 77, Brandie Burton 76 71, Laura Diaz 74 73, Liz Janangelo 68 79, Sophie Gustafson (Swe) 75 72, Hye Jung Choi (Kor) 74 73
148
Minea Blomqvist (Fin) 74 74, Maggie Will 75 73, Diana D'Alessio 75 73, Dina Ammaccapane 75 73, Candy Hannemann 73 75, Yu Ping Lin (Tai) 74 74, Cindy Pasechnik 73 75, Kate Golden 72 76, Erica Blasberg 78 70,
Mhairi McKay
(Sco) 76 72, Moira Dunn 78 70, Kristen Samp 71 77, Leah Marie Wigger 73 75, Danielle Downey 73 75
149
Lindsey Wright (Aus) 78 71, Heather Young 74 75, Beth Bader 75 74, Na Ri Kim (Kor) 76 73, Seo-Jae Lee 74 75, Lorie Kane (Kor) 75 74, Simi Mehra (Ind) 76 73, Virada Nirapathpongporn (Tha) 74 75, Se Ri Pak (Kor) 75 74, Tracy Hanson 75 74
150
Christa Johnson 77 73, Allison Hanna-Williams 72 78, Stacy Lewis 72 78
152
Hannah Jun 73 79, Onnarin Sattayabanphot (Tha) 78 74, Eva Dahllof (Swe) 76 76, Nicole Castrale 78 74
153
Vicki Goetze-Ackerman 75 78, Kyeong Eun Bae (Kor) 78 75, Silvia Cavalleri (Ita) 76 77, Emily Bastel 77 76, Siew-Ai Lim (Mal) 77 76, Nancy Scranton 74 79, Marcy Hart 78 75
154
Jeanne Cho-Hunicke 78 76
158
Violeta Retamoza (Mex) 77 81
159
Audra Burks 83 76
160
Becky Iverson 78 82, Ashli Bunch 81 79
Labels: LPGA TOUR