DON'T LEAVE IT TOO LATE TO SWING IN THE FEBRUARY SUN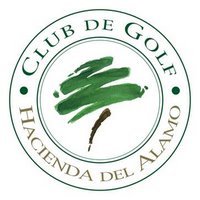 Renting villa accommodation for the
Hacienda del Alamo Women's
Winter Golf Festival
Before you enter the Festival, which has four events and a free practice round packed into seven days (February 11 to 17), you
should make inquiries about the rental accommodation available at the five-star Hacienda del Alamo, where all the competitions will be played.
Quotes for the short-term rental of villas at Hacienda del Alamo Golf Resort during the period of the Festival are available by E-mailing any of the following addresses:
management@stvgestion.com
info@spaingolfrentals.com
floss@crampies.freeserve.co.uk
haciendarental@aol.com
There is also rental information on the following websites:
http://www.spaingolfrentals.com/
http://www.haciendagolfrental.com/
http://www.haciendadelamovillas.com/
It is important to realise that one person renting a villa will find it quite expensive. Four (or more) people sharing the cost of renting a villa brings the cost per head down to affordable levels.
If you wish clarification on the arrangements at Hacienda del Alamo Golf Resort, direct your inquiries in the first instance to:
Billy Sim, Director of Golf, Hacienda del Alamo Golf Resort
Mobile telephone: 0034 690 295 650
or E-mail him at
billysim@hdagolf.com
Festival Controller Colin Farquharson is available to handle your inquiries about the tournaments and entries at 01224 869782 or by E-mail at:
Colin@Scottishgolfview.com
Some points to bear in mind:
1 There are four competitions but you don't have to play in all of them. You may want to take Saturday or Sunday off to go sightseeing, no problem with that. You may have time only to play in one competition. That's OK with the Festival organisers. You are still entitled to one free practice round.
2 The 100 Euros to be sent with your entry form is not over and above your entry fees. It is part of or even more than your entry fee if you are playing in only one competition. You will be refunded at Hacienda del Alamo Golf Resort by Colin Farquharson if you have overpaid.
3 Buggies are available for hire at Hacienda del Alamo Golf Resort and will permitted for competition play. Where possible, two people should hire one buggy
.
4 When making your flight arrangements, Murcia Airport is the one to fly to. It is less than 30min from Hacienda del Alamo Golf Resort and is not an expensive taxi journey. Alicante Airport, on the other hand, is well over an hour away and a taxi trip from Alicante to Hacienda del Alamo is expensive.
5 Although the Festival events are open to lady professionals as well as low-handicap lady amateurs/girls and those with handicaps up to 20, as well as senior ladies (50 and over on January 1), no amateur will be in direction competition with a professional. Each category has its own prize list.
6 We are encouraging MEN to come out to play in the St Valentine's Day pro-am when we hope all the professionals will be ladies but the amateur teams can be of mixed sex. If your husband, partner or boyfriend is a golfer, he can play in the pro-am and he will get a free practice round as well. If we get enough inquiries, we can also have mixed partnerships in the Sunday pairs competition which is nine holes of alternate shot and nine holes of better-ball.
7 January 15 is the deadline for entries but you are advised to enter before the end of this month to make sure of your place in what is a unique festival of fun and competitive play. And if you are a serious golfer, Hacienda del Alamo Golf Resort has five-star practice facilities: a two-tier driving range, a six-hole academy course, practice putting and pitching greens, a bunker practice facility.
Labels: 2009 HDA FESTIVAL, HDA FESTIVAL