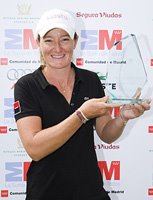 Gwladys Nocera scores fifth win
of
season in Madrid Masters
FROM THE LADIES' EUROPEAN TOUR WEBSITE
Gwladys Nocera today won the Madrid Ladies Masters for her fifth win of the year. The Frenchwoman,
pictured right with the trophy by courtesy of the LET website,
secured her 10th Ladies European Tour title in three seasons with a closing round of six-under-par 67. She finished on a total of 208, 11-under-par, after 54 holes at Casino Club de Golf Retamares, four strokes ahead of Paula Marti from Spain.
The €100,000 first prize money catapulted her to the top of the New Star Money List, which is the tour's official ranking. With €382,605 in season's earnings, Nocera is now €62,505 clear of second ranked Helen Alfredsson, the 2008 Evian Masters champion.
"I knew this week was important for the New Star Money List and it's big for me because that was the plan at the beginning of the year. It is a big thing for me and I'm just happy I did it," said Nocera.
"It means a lot this week because I won two weeks ago and then I went to the French Open hoping to win. It was pretty hard there."
Nocera has seven top ten finishes this season in addition to her five wins, achieved in Scotland, the Netherlands, Norway, Sweden and Spain.
"I think it is just a good year for me. Golf is a funny sport. It is up and down. This year is up and you never know what will happen now. I want to enjoy it because you don't know what will happen tomorrow," she added.
After opening with rounds of 72 and 69, Nocera had nine birdies, one bogey and one double bogey in the third and final round. She conceded a 6 at the par-4 first hole was not the perfect start. "It was stupid. I started off on the left side on the drive. I had a bad lie and I hit my shot short of the bunker. My feet were in the bunker and my ball was lying on the sandy area. I hit it fat and it hit the bunker on the lip. I couldn't hit it out normally so I had to chip and made a good putt for a double bogey."
Nocera wanted to thank her coach Olivier Leglise, who despite many appearances on tour has never seen his star pupil win. "He sent me such a nice text message last night and I told him "I just want to prove to myself that I'm the best." I hope he is happy," she said.
Marti, the 2002 order of merit winner, had three birdies in her bogey free round of 70. The two-time LET champion posted her eighth top ten finish of the season and moved from 10th to seventh on the ranking. "I'm very, very happy because the season has been really good," said Marti. "It was nice to finish second. I don't want to think about winning but if every week I'm up there, the win will come."
The 2007 Scandinavian TPC winner Catriona Matthew from North Berwick was third on six-under after a final round of 70. "I'm pretty pleased; a little disappointed but I played well," said Matthew. "There were a lot of putts that didn't go in but I'm pleased with how I played."
The English and Tenerife Open champion Rebecca Hudson of England and Spain's Tania Elosegui both shot a final round of 69 to tie for fourth on five-under.
Swedes Johanna Westerberg (68), Emma Zackrisson (69), Norway's Marianne Skarpnord (70) and South Korea's Amy Yang (73) were joint sixth on four under, with Iben Tinning (72) in tenth.
The LET now has a three-week break until the Suzhou Taihou Ladies Open in China, followed by the final three events of the year in Korea, India and Dubai.
Clare Queen (The Carrick at Cameron House) improved on a pair of 80s to sign off with a one-over-par 74. But she finished last, Martina Eberl having retired with a shoulder complaint.
Par 219 (3 x 73)
208
G Nocera (France) 72 69 67 (100,000 Euros).
212
P Martin (Spain) 68 74 70 (42,400).
213
C Matthew
(Scotland) 68 75 70 (28,000).
214
T Elosegui (Spain) 68 77 69, R Hudson (England) 72 73 69 (19,280 each).
215
J Westerberg (Sweden) 70 77 68, E Zackrisson (Sweden) 72 74 69, M Skarpnord (Norway) 73 72 70, A Yang (South Korea) 69 73 73 (11,240 each).
216
I Tinning (Denmark) 70 74 72 (8,000).
Selected scores:
217
K S Taylor (England) 67 78 72, L Davies (England) 70 75 72 (jt 11th) (6,893 each).
218
M Reid (England) 71 78 69 (jt 14th) (6,060).
219 S Head (England) 73 77 71, G Simpson (England) 76 76 78 ((jt 19th) (5,040 each).
225 B Brewerton (Wales) 75 75 75 (jt 28th) (4,080).
226 L Hall (England) 77 74 75 (jt 31st) (3,780).
227 F Johnson (England) 70 82 75 (jt34th) (3,600).
232 T Johnson (England) 80 76 76 (jt 39th) (3,060).
234

C Queen
(Scotland) 80 80 74 (41st) (2,880).
Labels: LADIES EUROPEAN TOUR