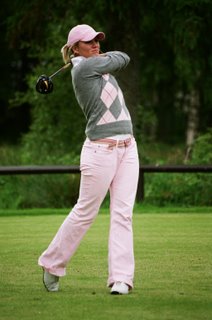 Gemma improves by three in second
round of Tar Heel Invitational
Gemma Webster (Ohio State), pictured right by Cal Carson Golf Agency, had rounds of 80 and 77 for a 36-hole tally of 157 in the Tar Heel Invitational over the University of North Carolina's Finley course (Par 72, 6285yd) at Raleigh.
The new leader at the head of a field of 93 is Natalie Sheary (Wake Forest) with 71 and 70 for 141.
Next comes Cindy LaCrosse (Louisville) with 74 and 68 for 142.
And in third spot is Nannette Hill (Wake Forest) with 71 and 72 for 153.
Former world tennis No 1 Ivan Lendl's oldest golfing daughter, Marika, now a student at the University of Central Florida, jumped up from tied 33rd to joint sixth with a second-round 70, six shots better than her opening effort.
Sweden's Caroline Westrup (Florida State) went in the opposite direction, from joint 10th to joint 26th after slipping from a 73 to a 78 for 151.
Not surprisingly, Wake Forest, with two players in the top three with one round to go, are leading the team event.
Labels: US COLLEGES