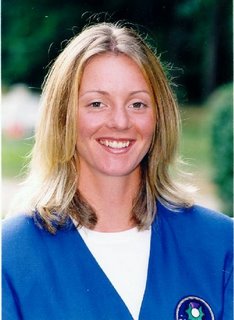 SLIPPING AND SLIDING - BUT
TO LPGA FINAL Q SCHOOL
Vikki Laing slumped from joint 12th place overnight to a final position of joint 27th - but that was good enough to include her among the 32 players with four-round totals of 294 or better who qualified for the LPGA Tour Final Qualifying School at LPGA International, Daytona Beach, Florida from December 3 to 7.
The 27-year-old US-based player from Musselburgh, thrown a lifeline with a place in the field for the last of the LPGA's regional eliminating competitions - she had already failed to qualify in an earlier regional, had a final round of six-over-par 78 after earlier rounds of 73, 69 and 73, for a total of 293.
She made it through with only one shot to spare after looking comfortably placed at the start of the final day.
Chella Choi was the No 1 qualifier with 71, 67, 72 and 69 for nine-under-par 279.
That was one stroke ahead of Spanish Ladies European Tour player, Beatriz Recari and Nontaya Srizawang.
Another Spanish player was not so fortunate. Elisa Serramia, winner of the British women's open amateur championship at Lindrick a few years back, missed out with a total of 299.
Par 288 (4 x 72)
279
Chella Choi 71 67 72 69.
280
Beatriz Recari (Spain) 69 69 71 71, Nontaya Srisawang 72 67 7269.
281
Jaclyn Sweeney (amateur) 71 68 70 72.
Other qualifiers included:
293
Vikki Laing
(Scotland) 73 69 73 78 (jt 27th).
+A total of 32 players with totals of 294 or better qualified.
Non-qualifiers included:
299 Elisa Serramia (Spain) 71 77 74 77.

ends
Labels: LPGA TOUR