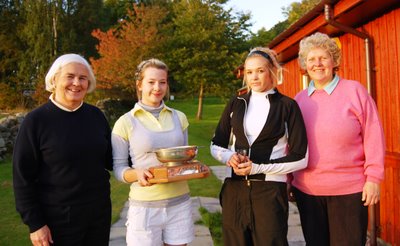 County president Joan Rennie (left) and Fiona Hay (right) flank the two Aberdeenshire girl title-winners, scratch champion Louise McGillivray and handicap champion Kristina Vannet (Cal Carson Image). You can enlarge the images by clicking on them.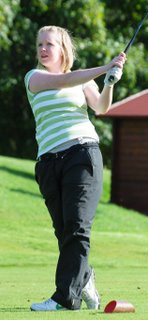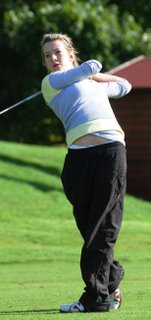 Louise McGillivray beats
Samantha Leslie to win
Aberdeenshire girls'
Louise McGillivray, 15-year-old Banchory player, did not have far to travel to win the Aberdeenshire girls' championship over the Laird's Course, Inchmarlo on the outskirts of the Deeside town ... but she took the long route to victory.
Louise
(pictured right by Cal Carson Golf
Agency
) beat Samantha Leslie (Murcar Links) at the 20th hole in the final. It was the second year in a row that Samantha (
pictured left
) had lost in the final.
Louise won the third and fourth to jump into a two-hole lead but had her advantage cut to one by the turn. Samantha birdied the 11th to square the match.
McGillivray regained a narrow lead by winning the 12th before Leslie squared at the 17th. After halves at the 18th and 19th, Leslie pulled her tee shot at the short 20th and McGillivray was able to win the title with a par 3.
Kristina Vannet (Peterculter), 17-year-old daughter of the Peterculter professional, Dean Vannet, beat Vikki Powell (Deeside) by 3 and 2 in the Aberdeenshire girls' handicap championship final.
Kristina, who has brought her handicap down from 28 to 13 this season and was conceding six shots to her opponent, came back from two down after three holes to be two up after seven and three ahead after 11 holes before winning by 3 and 2.
That meant a double victory for Banchory-based girls as Kristina lives in Banchory with her parents.
Today's results:
SCRATCH CHAMPIONSHIP
Semi-finals
- Louise McGillivray (Banchory) bt Megan Clyne (Deeside) 6 and 5, Samantha Leslie (Murcar Links) bt Nikita Lamond (McDonald Ellon) 4 and 3.
Final
- McGillivray bt Leslie at 20th.
HANDICAP CHAMIONSHIP
Semi-finals
- Vikki Powell (Deeside) (19) bt Rachel Polson (Peterculter) (11) 1 hole, Kristina Vannet (Peterculter) (13) bt Kirsten MacCallum (McDonald Ellon) (11) 2 and 1.
Final
- Vannet bt Powell 3 and 2.
Labels: Girls