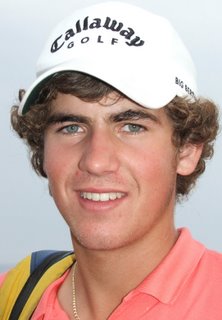 Jordan Findlay's nightmare
in Tennessee - a 93 with
only three par figures
Former British boys champion Jordan Findlay from Fraserburgh, in his fourth and final year as a golf scholarship student at East Tennessee State University, was lying last in a field of 75 at the end of the first round of the Bank of Tennessee @ The Ridges college tournament at The Ridges Country Club, Jonesborough in Tennessee.
Findlay, 20, pictured right by Cal Carson Golf Agency, had an embarrassingly-high score of 21-over-par 93 in which he had only three pars in halves of 45-48 against the scorecard of 36-36 over a 7,147yd course.
Jordan had one triple bogey, four double bogeys and 10 single bogeys.
Team-mate Rhys Enoch, a Welsh international from Cornwall, did rather better at the other end of the leaderboard. He had a one-under-par 71 to share second place with eight other players, one behind leader Matt Hill (North Carolina State).
Chris Paisley (Tennessee University) from Newcastle was in joint 10th place with a par-matching 72.
Scottish boys' match-play champion Michael Stewart from Troon, a freshman student at East Tennessee State and team-mate Seamus Power from Waterford both scored 73 to be joint 20th.
Stewart had birdies at the fifth, 10th and 14th but cancelled them out with four bogeys.
Welshman Jason Shufflebotham from Prestatyn, a sophomore student at Alabama-Birmingham, was back in joint 31st place after a 74.
Labels: US COLLEGES