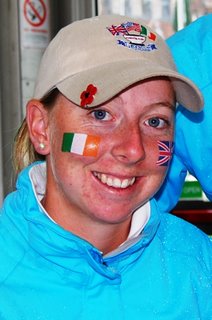 KRYSTLE CAITHNESS SHOCK
She's coming home from USA and
will enter LET Q School in January
By COLIN FARQUHARSON
Curtis Cup Scot Krystle Caithness, the star player of the University of Georgia women's golf team, has stunned the Bulldogs' coaching staff and fellow players by quitting college halfway through her sophomore (second) year.
The 19-year-old from Cellardyke, Fife - the family have moved home to Cupar this year - is returning to Scotland immediately. She intends to enter the Ladies European Tour Qualifying School at La Manga in January.
Caithness, who played very well for Scotland in the recent women's world amateur team championship in Australia earlier this month, said that homesickness was the reason for her out-of-the-blue decision.
In a written statement released by the University of Georgia, Caithness aid:
"I really do miss home at this time and don't feel like I can carry on in any way that will help my team to move forward.
"I will miss everyone. I was extremely grateful for the opportunity I received here are Georgia. At this time I have to do what's best for me."
Georgia women's head coach Kelley Hester commented: "Krystle has been a valuable member of our team and we will certainly mniss her. We wish hwer the best as she returns home to pursue a professional golf career."
Krystle was 23rd in the most recent Golfweek nationwide women's college rankings. Georgia University are ranked fourth.
Labels: Amateur Ladies