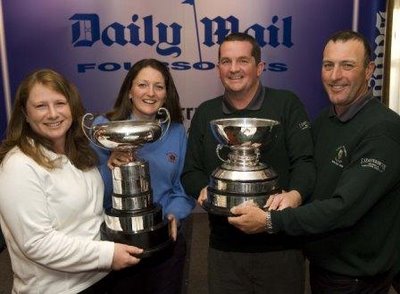 Kirstie and Kelly
win Daily Mail
Foursomes' Grand Final at Dalmahoy
PRESS RELEASE ISSUED BY ENGLISH WOMEN'S GOLF ASSOCIATION

Northamptonshire's Kirstie Jennings and Kelly Hanwell – two key figures in English women's golf – have won the Daily Mail Women's Foursomes Grand Final at Dalmahoy, near Edinburgh.
Kirstie is the compliance manager for the England Golf Partnership and the lead child protection officer for the English Women's Golf Association. Kelly is a regional development officer for EWGA and the English Golf Union.
The pair, who play at Northamptonshire County, took the women's title when they got the better of both the field and the wet and windy weather.
"It was the worst conditions I have played in," said Kirstie. "It was raining, freezing cold and the wind was howling. We had our own personal squeegee operator for the final round!"
Because of the weather the title was decided for the first time on a Stableford format – and Kirstie and Kelly won through with a strong finish.
After 15 holes there was only one point separating the leading four women's pairs but the Northamptonshire partnership pulled away from the field with a birdie-par-bogey finish. They amassed 32 points and were three clear of their closest rivals.
"We were really chuffed to win it after going through all that," said Kirstie, who was a losing finalist in 2005.
Both Kirstie and Kelly are past winners of the Northamptonshire county championship and Kelly has also been the Midland ladies' title-holder. They have played foursomes together for their county since 1999.
The Daily Mail men's foursomes title was also won by an English pairing - Great Torrington's Tony Gooch and Mark Hill.

Lyndsey Hewison
Press & PR Officer
Note: The organisers have not released all the final totals so we cannot tell you how the Scottish qualifers fared in the Grand Final. If they want to tell us - E-mail the information to Colin@scottishgolfview.com
Labels: Amateur Ladies