LGU want top players to seek out warm-weather training/competition venues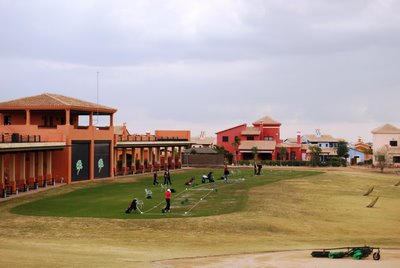 Hacienda del Alamo Golf Resort's two-tier driving bays plus the chance to hit balls off grass, which is not possible at many driving ranges. There is also a six-hole academy course, big practice greens for chipping/pitching (another rare facility) as well as putting. On top of that there are even practice bunkers.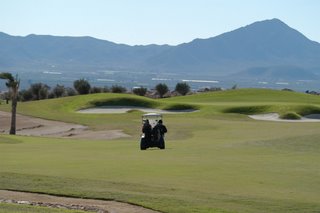 Hacienda del Alamo Festival
is tailor-
made for players chasing Vagliano
Trophy
By COLIN FARQUHARSON,
Tournament Controller, 2009 Hacienda del Alamo Women's Winter Festival
The Ladies Golf Union has today named a short leet of 26 players for next year's Vagliano Trophy match and is recommending that they should all consider going to a warm-weather venue in the winter to get in some intensive practice and competitive play at the same time.
Sounds very much like the Hacienda del Alamo Women's Winter Festival to me ... superb practice facilities at this five-star Murcia resort with the
unique
opportunity to play in a four-event competitive programme over the February 11 to 17 weekend.
All the results from the Festival will be sent to the Ladies Golf Union and they will appear on
http://www.kirkwoodgolf.co.uk/
every evening. I have no doubt that the GB&I selectors will be taking note.
Of course, as the LGU's Press Release today underlined, not being named in the preliminary GB&I squad does not mean that you cannot force your way into the team with outstanding displays in tournaments such as the Hacienda del Alamo Women's Festival.
If you scroll down, you can read about contacts for arranging rental accommodation at the Hacienda del Alamo Resort before, during and after the Festival.
Here's an E-mail on the subject, received just a few minutes ago:
Dear Colin
Many thanks for including our e-mail address on website information regarding the 2009 Hacienda del Alamo Women's Golf Festival. Just to point out that our e-mail address has changed to:
floss@crampies.co.uk
, which is the ideal e-mail address to use, although I can still pick up anything sent to the old address.
Our villa – "The Boat House" (own pool, sleeps six) can be viewed on the web-site
www.haciendadelamovillas.com
plus we also have a smaller, two-bed, two-bath townhouse with shared pool.
Prices for your dates in February: for The Boat House £600-700 per week, for the townhouse £400-£500 per week, depending on number of people and length of stay.
Thanks again and we look forward to being of help to you.
Kind regards,
Floss Cramp
Labels: 2009 HDA FESTIVAL, HDA FESTIVAL