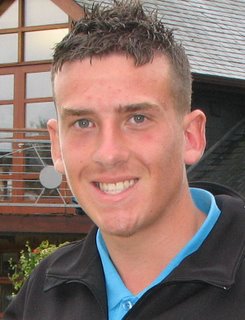 Nicky from Newcastle
swinging in the rain
to lead USA event
FROM A HUTCHINSON WEBSITE
Newcastle's Nicky Maddison, a freshman student at Hutchinson College, Kansas, led the Jayhawk Conference Invitational entering the final round.
Maddison,
pictured right,
felt right at home at The Highlands course.
Unfortunately for Hutchinson College, he was one of the few Dragon who felt comfortable during the opening round of the two-day event.
Maddison shot a one-under-par 71 and is two strokes ahead of Dodge City's Anders Engell.
No one else shot better than 79 on a day when it rained for most of the round.
"You just had to keep your concentration, keep your focus," said Maddison who actually welcomed the conditions.
"It's pretty cold back home in the North-east of England and you can get some horrendous conditions for golf. So I was pretty pleased when I got up this morning and saw it what raining," said Maddison.
He hit 15 greens in regulation, had four birdies and three bogeys on the day
.
"That tells you how much golf is mental," added Hutchinson College golf coach Chris Young.
"Nicky comes to the golf course with a positive frame of mind because he doesn't let the weather bother him."
The Hutchinson College golf team is ranked fifth nationally - its highest ever ranking - but the Dragons have some work to do to win another tournament title.
Hutchinson has a team score of 331 and is in third place behind Dodge City (321) and Kansas City (329).
Labels: US COLLEGES