Lynn Kenny fails to beat 36-hole cut at Christchurch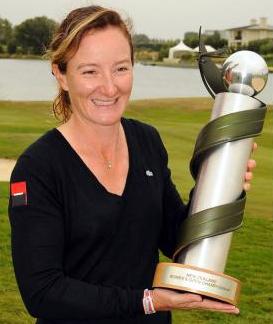 Nocera wins NZ Women's
Open by six shots as wind
blows her rivals away
FROM THE TOURNAMENT WEBSITE
The strong southerly wind which struck the Clearwater course, Christchurch midway through the final round of the $150,000 New Zealand Women's Open golf championship caused carnage among the leading players today.
What was shaping as a tight finish with the top seven players separated by no more than four shots suddenly turned into a one-horse race as only Frenchwoman Gwladys Nocera withstood the buffeting wind and sharp drop in temperature.
When the wind swept the course, the final threesome was playing the eighth hole and overnight leader, Sarah Oh, from New South Wales, still held a one-shot advantage over Nocera with world No. 26, Katherine Hull, from Queensland, three shots off the lead.
But the dramatic swing in the weather completely changed the complexion of the championship. At the end of the 54 holes, Nocera, after a three-under 69, stood alone at eight-under par 208 and the champion by six shots from a group of four.
Hull was in that quartet at two-under 214 as were fellow Australians, Nikki Garrett and Sarah Kemp, and Korean professional Bobea Park, who spent most of her amateur career in Auckland.
The biggest casualty of the weather was 20-year-old Oh, who had been composed and confident for 45 holes then lost the plot when she lost the lead to Nocera for the first time after the Frenchwoman had her fifth birdie on the 10th.
Oh was par for the day through 11 holes before bogeying the 12th. That preceded three successive double-bogeys and a bogey at 17, which resulted in a back nine of eight-over 44 and a round of eight-over 80, which dropped her back to a share of sixth on 215.
Nocera was perhaps the only player who welcomed the wind. ``I like the wind, I enjoy it blowing because it pushes me to play even better. Sometimes I play too easy and make stupid mistakes and it (wind) makes me concentrate.''
Nocera said she had played really well, especially on the greens, to be five-under through 11 holes. ``When the wind came I tried hard not to make mistakes. I knew I was going to make bogeys and so was everybody else – it didn't really matter as long as I didn't make more than bogeys.''
Nocera said she was conscious not to ground the club behind the ball on the greens and was forced at times to remove her visor and glasses before putting. For Nocera, winner of last year's European Tour order of merit, it was her first win Down Under' after playing the Australian tournaments for the last seven years and she pledged to return next year to defend her crown.
Auckland 14-year-old Cecilia Cho had the honour of not only being the leading amateur but also the leading New Zealander. She was one-under after 10m but despite a faltering finish, which included three double-bogeys, she managed a 79 to be tied for 14th, a shot ahead of Wellington professional Sarah Nicholson and Northland amateur Caroline Bon.
Nearly 5400 paying spectators attended the three-day championship, which pleased promoter Bob Tuohy, who has the rights along with New Zealand Golf to run the tournament for another two years.
THINGS YOU MIGHT NOT KNOW ABOUT GWLADYS NOCERA
European Number 1,
Gwladys Nocera
graduated from New Mexico State University and holds a degree in international business.
As a top-class golfer, Gwladys could be considered a late developer. She did not turn professional until she was 27 - six years ago - and after a modest start to her career, she made a dramatic improvement in 2005 when she finished fourth on the LET OOM, forcing her way into the Solheim Cup where she beat Cristie Kerr in her singles match on debut.
Nocera, 33, has only been a professional for six years but over the last three years she has finished in the top three on the LET's Star Moneylist.
She enjoyed a stunning 2008 season with five wins and 12 top-10 finishes. Her wins came at the Scottish Open, ABN AMRO Open, SAS Open, Goteberg Masters and Madrid Masters, one of the richest on the LET Tour.This brought her to 10 career wins in six years.
LEADING FINAL TOTALS IN NEW ZEALAND
Par 216 (3 x 72)
Players from Australia unless stated

208
Gwladys Nocera (Fra) 71 68 69.
214
Bobea Park (SKo) 73 67 74, Katherine Hull 65 73 76, Nikki Garrett 72 71 71, Sarah Kemp 73 67 74.
215
Mollie Fankhauser (US) 70 75 70, Sarah Oh 68 67 80.
216
Lee-Anne Pace (SAf) 70 72 74.
217
Martina Eberl (Ger) 71 73 73.
219
Joanne Mills 74 74 71.
220
Sarah-Jane Smith 73 73 74, Vicky Thomas 72 74 74, Wendy Doolan 71 72 77.
Selected scores:222
Becky Morgan (Wal) 72 78 72, Johanna Westerberg (Swe) 71 73 78, Julie Tvede (Den) 73 72 77 (jt 16th).
223
Becky Brewerton (Wal) 73 76 74, Jade Schaeffer (Fra) 762 74 77, Melodie Bourdy (Fra) 72 78 73 (jt 22nd).
225
Kiran Matharu (Eng) 74 79 72, Lydia Hall (Wal) 73 76 76 (jt 32nd).
226
Trish Johnson (Eng) 71 75 80.
227
Danielle Montgomery (Eng) 75 75 77, Laura Davies (Eng) 77 76 74.
228
Felicity Johnson(Eng) 77 73 76, Anne-Lise Caudal (Fra) 71 73 74.
230
Anna Knutsson (Swe) 76 76 78.
+Only players with 36-hole totals of 156 or better qualified for the final round. Lynn Kenny (83-79=162) was one of those who missed the cut.
Pass marks for first NZ Women's Open - Bob Tuohy
The inaugural New Zealand women's golf tournament has been given a pass mark by tournament director, Bob Tuohy, but there are no guarantees the tournament will be back at Clearwater next year.
Tuohy said he is keen to bring the tournament back to Clearwater because the course has the infrastructure needed to run a major tournament, and the other bonus is that the players have enjoyed it.
The tournament attracted 5370 spectators over the three days.
Unlike the New Zealand PGA men's tournament, to be played next month at the course, which is free to Christchurch City Council ratepayers, spectators had to pay at the women's open.
"For year one that was a great performance," said Tuohy after the tournament ended yesterday.
The tournament was without a naming rights sponsor this year and if the organisers can attract one that could dictate where it is held.
Tuohy said when Clearwater was chosen at the inaugural venue it had very little opposition. "We travelled the country looking at venues and the only other one in the mix was Wairakei. At the end of the day it was the Christchurch City Council who put their hands up to support the tournament."
Tuohy has a contract to run the tournament for three years and said he faces a challenge over the next two to get it on a firm footing.
Prizemoney this year was $150,000 but next year it has to be a minimum of $175,000 and in the third year $200,000.
"The major sponsor this year was New Zealand Golf but its commitment will reduce over each of the next two years. That's where we come in. We have to underwrite the difference. We have to be patient and we hope the tournament has a good future. We would be happy to be back here because it has all we need for a tournament a good practice range, accommodation on site, three phase power which can cost $20,000 to install, broadband, proximity to an international airport and a club that is happy to have the tournament here.
"In Australia it can cost $200,000 to rent a course for a tournament," said Tuohy.
Labels: Pro Ladies