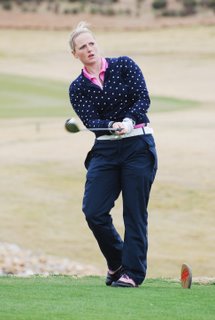 British Colleges title and Kittocks
course record for Holly Clyburn
England girl international Holly Clyburn (Woodhall Spa) has won the first British Colleges open golf championship over the Kittocks course at Fairmont St Andrews (formerly St Andrews Bay).
Holly, who is a student at the Grimsby Institute, where she is studying Sport & Leisure, had rounds of 72 and 74 for 146 to finish 12 shots ahead of runner-up Jessica Schiele, also of Grimsby Insitute, with Sarah Davies (Runshaw College) third in the two-day event.
Holly's round of 72 is a women's record for the Kittocks course.
She is pictured right, by Cal Carson Golf Agency, in action at the recent Hacienda del Alamo Women's Winter Festival in Spain.
"I was pleased with my golf in difficult conditions on both days and, apart from a couple of bad holes, I played very solidly," said Holly. who had her 18th birthday in early February.
The men's individual title was won by Ryan Campbell (Elmwood College, Cupar) with Daniel Russell (Easton College) runner-up and Ben Cotton (Myerscough College) third.
There does not seem to have been a women's team event - no result on the British Colleges Sport website - but Myerscough College won the men's team championship ahead of Chichester College with Elmwood College third.
Sorry, the organisers have not supplied all the scores (It's thanks to Holly Clyburn's mother that we know about the event at all!).
++You can read a later report, which has news of Ryan Campbell also setting a course record and also a picture of him with the trophy, by switching over to
www.scottishgolfview.com
Labels: Student golf