FOUR SCOTS ACES TRUMP IRISH IN SINGLES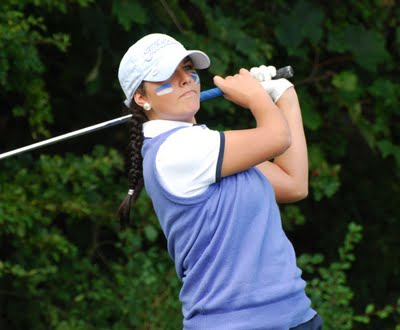 KELSEY MACDONALD ...Winner by 3 and 2 against Mary Dowling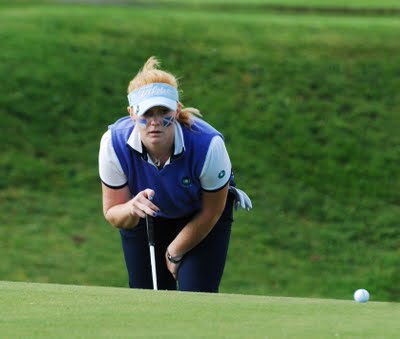 KYLIE WALKER: Winner by 3 and 2 over Niamh Kitching.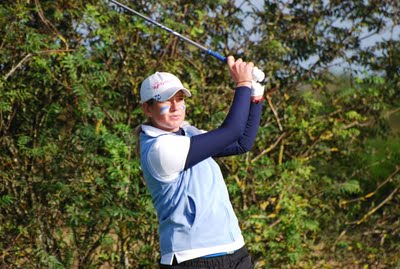 PAMELA PRETSWELL: Won the 18th for decisive one-hole victory over Aedin Murphy
.
Ireland
after Wales wallop
England 7-2 on opening day

Scotland showed a lot of class but, more important in a match-play situation, a lot of grit and will-to-win to come from behind to beat Ireland 5-4 on the opening day of the women's home internationals at bright and breezy Irvine Golf Club, Ayrshire today.
The bonus for skipper Lesley Nicholson's squad was that Wales walloped England 7-2 in the other match.
"The girls put me through it today but they got there in the end," said Lesley.
"I'm delighted. They did so well to turn it around from what could have been a losing position."
Scotland made up their one-point foursomes deficit by winning the first two singles to finish against Ireland.
Teenager Carly Booth (pictured above today by Cal Carson Golf Agency) set the tone for Scotland's rally in the singles by winning the top singles against a British title-holder.
The Curtis Cup youngster responded to the captain giving her the responsibility of leading off the afternoon play by beating the new British women's open amateur stroke play champion Danielle McVeigh by 2 and 1.
McVeigh did not play badily. Booth simply played better and held her nerve down the home holes.
Carly lost the first hole but squared it at the second – and was never in arrears again after that.
One up at the turn, Booth lost the 10th but hit back with a birdie 4 at the long 11th to regain the lead. Booth conceded the 12th to lose the advantage again but won the 13th and then birdied the 14th to take a vital two-hole lead.
McVeigh won back the 15th but after a half in 3s at the short 16th, Carly won the 17th for a 2 and 1 margin of a win that should boost the Comrie lass's confidence.
Kelsey MacDonald put Scotland 3-2 ahead by beating Mary Dowling 3 and 2. Kelsey always held the whiphand but could not shake off a determined opponent. MacDonald's eagle 3 at the ninth enabled her to go two up but Dowling won the 12th only for Kelsey to birdie the 13th to regain a two-hole advantage.
The 15th was the decisive hole. The Scot won it to go three up with three to play and a half at the 16th finished the match in her favour.
But Ireland had the advantage in the ties still to finish and Gillian O'Leary's 3 and 2 win over Laura Murray levelled the overall scoreline at 3-3. Gillian built up a two-hole lead on the outward half and won the 11th and 12th to double that advantage before losing the 14th.
With three matches to finish and Scotland three up in one and Ireland three up in another, it was clear that the Pamela Pretswell (Scotland) v Aedin Murphy (Ireland) tie – all square after 17 – was going to have an important bearing on the overall result.
Glasgow University student Pretswell was two down with five to play but won the 14th with a birdie 3 and squared the match with a par 3 at the short 16th.
After a half at the next, Pamela hit a massive drive off the 18th and won the hole and the match with a 4.
Kylie Walker beat Niamh Kitching by 3 and 2 in a match that was all square after 11 holes. Walker won the 12th, 13th, 14th and 16th in an strong finish.
Charlene Reid got Ireland's fourth point by beating Louise Kenney 3 and 1. Reid won the seventh, eighth and nine to go three up and she stayed in the driving seat for the rest of the match.
Day 1 results
ENGLAND 2, WALES 7
Foursomes (1-2
)
Charlie Douglass & Holly Clyburn bt Lucy Gould & Sam Birkes 1 hole.
Charlotte Wild & Hannah Barwood lost to Rhian Wyn Thomas & Gemma Bradbury 2 holes.
Rachel Jennings & Kelly Tidy lost to Tara Davies & Amy Boulden 3 and 2.
Single
s
Douglass bt Davies 2 holes.
Barwood lost to Thomas 3 and 2.
Clyburn lost to Gemma Bradbury 3 and 1.
Charlotte Ellis lost to Katie Bradbury 2 holes.
Tidy lost to Boulden 4 and 3.
Nikki Foster lost to Gould 8 and 7.
SCOTLAND 5, IRELAND 4
Foursomes (1-2)
Kelsey MacDonald & Carly Booth lost to Danielle McVeigh & Charlene Reid 3 and 2.
Louise Kenney & Pamela Pretswell bt Gillian O'Leary & Victoria Bradshaw 4 and 3.
Kylie Walker & Megan Briggs lost to Mary Dowling & Sarah Cunningham 5 and 4.
Singles (4-2
)
Booth bt McVeigh 2 and 1.
Pretswell bt Murphy 1 hole.
MacDonald bt Dowling 3 and 2.
Walker bt Niamh Kitching 3 and 2.
Laura Murray lost to O'Leary 3 and 2.
Kenney lost to Reid 3 and 1.
THURSDAY'S MATCHES
Ireland v Wales

Foursomes start at 8.30 am. Singles at 1.10pm.
Scotland v England
.
Foursomes start at 9am. Singles start at 2.20pm
THERE IS NO ADMISSION CHARGE AND PUBLIC CAR PARKING IS FREE.
IF YOU ARE INTERESTED IN GOLF AND LIVE WITHIN REASONABLE ACCESS OF IRVINE GOLF CLUB, COME ALONG AND SEE A GOLFING TREAT.
Labels: Amateur Ladies