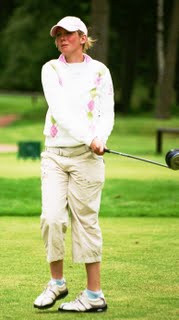 Curling, golf and bagpipes . . . Eve
Muirhead is a girl of many talents
FROM THE HERALD WEBSITE
By DOUGLAS LOWE

She could have gone down the warm and sunny Michelle Wie road towards riches in golf, but instead Eve Muirhead chose the cold and icy track to her Winter Olympic dream.
Muirhead,
pictured by Cal Carson Golf Agency,
whose teenage years don't end until April, is skipping the Great Britain curling team at the Vancouver Games in February but more immediately she is doing the same under the Scotland banner at the European championships that start today in Aberdeen.
Having led Scotland to three world junior crowns and earned a reputation as a player who loves the big shot, she is worthy of the ice-maiden references that are coming her way. Yet the life on the fairways could have been hers, too, and might yet be.
She plays to a handicap of two, has been a member of the Perth & Kinross county team, and last year at Monifieth she reached the last 16 of the British girls' championship, defeating English champion Hannah Barwood on the way.
"I'm aware Michelle Wie is about the same age as me. She's been up there, she's done it and she's young. ?To me you have to be a very good golfer to make it up to the top ranks, but I think I've done that in curling and I'm fortunate to have a family that are in it and push me forward," she said.

I was surprised at being picked as skip but I suppose if you're good enough you're old enough. "If I'd wanted I could be in America doing a golf scholarship right now and I could just about have chosen where I wanted to go. I know there is a lot more money in golf but I had to make a decision and I chose to curl.
"I think I have a great opportunity this year. When I won my world junior championship after being selected to be part of the Great British team then I knew I was up there with the best. To be honest it wasn't a hard decision.
"This year, golf has taken a back seat but hopefully next year I'll get back into it. It's good to have a summer sport and a winter sport and in Canada there are some professional golfers who turn to curling in winter."
Her father is Gordon, twice a silver medallist in the world event, and it was he who introduced Eve to curling at the local rink at the age of nine when the family moved to Pitlochry.
"As soon as I stepped on to the ice I just wanted to go back and back. I wanted more. Dad brought me my first shoes and brush from Canada and from then I was desperate to carry on and now to be a skip for the Olympic team at the age of 19 is great, it's exciting," she said.
Muirhead was just 12 when Rhona Martin delivered her so-called stone of destiny to win gold in the 2002 Winter Games at Salt Lake City and she was allowed to stay up well past midnight to watch the conclusion. Little could she have imagined that it would be her leading the next generation.
Martin has had a direct influence too, as national junior coach for last year's world success. "We get on great, she's been there, done it and got the medal. It's great to have her experience and back-up," said the teenager who is not short of support
.
Her team comprises third player Jackie Lockhart, 44, who is a world title-winning skip and is going for her fourth Olympics, Kelly Wood, 24, a world bronze medallist who played in the 2006 Olympic team, and lead Lorna Vevers, 28, who is also a medallist at world and European level.
It was a team that was hand-picked unlike the traditional method of trying to qualify as a rink, and choosing a player so young to lead the side is a huge leap of faith by the selectors.
"I was surprised at being picked as skip but I suppose if you're good enough you're old enough and as the season has gone on we have performed well as a team," she said. "I am a quick decision maker and usually find my first instinct is the right one. I am also a slight risk taker. I like the big shots and I have Jackie there to back me up. I can always ask for advice and we can ask our coach during the game."
Muirhead has done the strength and conditioning, the psychology and the diet. Now it's a case of playing and that's where the European championships that will continue until December 12 are playing a key role.
They are a big event in their own right but there is no doubting they are still a staging post on the road to Vancouver.
"Every game is an opportunity to build and move forward," she said.
There is one other world-class facet to this personable young woman. She is also a bagpipe player with the local pipe band and has played at several world championships. Like the golf clubs, however, they have been put to one side
.
"I might take the bagpipes to Vancouver. The worry would be about them being damaged in transit, but I'm definitely taking them to Aberdeen," she said.
What better way could there be to lead a Scottish team into battle?
+The above article appears in today's issue of The Herald newspaper.
Labels: Amateur Ladies