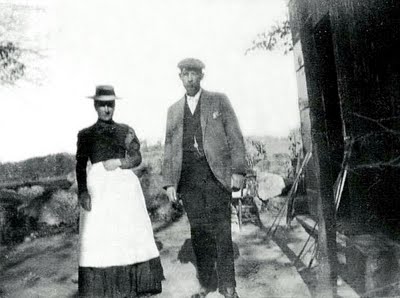 Georgina and Willie Campbell, husband and wife golf "team" from Musselburgh, pictured after they emigrated to the United States.
Georgina and Willie Campbell from Musselburgh
were golfing trail-blazers in United States
FROM THE BOSTON GLOBE, AUGUST 4, 2005
By Jim McCabe, Globe Staff
Hickory is but a memory lost beneath decades of dust. So, too, the beloved gutta-perchas that took shape within her skilful hands. The sheep? They no longer graze the rolling terrain to keep playable the grass for the avid golfers.But the spirit?
Now that is something Georgina Campbell would recognise if she were to stand on the first tee and personally welcome her golfing ancestors to Granite Links Golf Club in Quincy (in the United States).
Campbell envisioned a day when public golf would be what it has become; more passionately, she believed the game was good for women and women were good for the game.
The BJ's Charity Championship has proven her correct, and this Women's Senior Golf Tour event and its $400,000 purse would make Campbell proud. Legends of the LPGA Tour -- from Kathy Whitworth and Sandra Haynie, to Pat Bradley and Patty Sheehan, to Amy Alcott and Jan Stephenson, to Jane Blalock and Sandra Palmer -- will display for three days starting tomorrow the talents that have aged gracefully and the dignities that have remained unspoiled.
In competition they will be walking the velvet green fairways of a brilliant modern golf course; in truth, they will be following a trail that was blazed more than 100 years ago right here in Boston by ''the first lady of American golf."
History is our most precious commodity and it sits like a buried treasure until someone with a passion unearths it. So it is that we thank an unassuming gentleman from Jamaica Plain, Brian DeLacey, and a proud grandson from New Hampshire, Bob Lamprey, for shedding light on the grand story that centers around Willie and Georgina Campbell.

The game of golf has taken many twists and turns and various roads to ultra riches since the couple emigrated from their native Scotland, and while it would be wrong to give this husband-wife team from Musselburgh full credit for inventing golf in the United States, they most certainly deserve some recognition.
Through DeLacey's research, we have learned that Willie Campbell earns praise for perhaps being the golf professional who was the true catalyst for public golf in the new world. A renowned match-play competitor who learned the game under the tutelage of three-time British Open champion Bob Ferguson, Campbell was lured to the United States in 1894 by influential members of The Country Club in Brookline.
The salary of $300 a year too good to turn down. He left his young wife, Georgina Stewart Campbell, and daughter, Mary, in Musselburgh while he embarked upon a trip that would eventually be copied by many of his fellow Scottish golf pros.
Assigned the task of building a golf course at The Country Club, Campbell achieved so much more.
''He believed that if golf were to be successful in the United States, it had to go to the people," said Lamprey, Mary's son and grandson of Willie and Georgina. ''That became his mission, and he succeeded."
DeLacey's interest in the history of Franklin Park Golf Course led him to Campbell, which in turn led him to Lamprey, and together they have brought forth the story of a couple who were years ahead of their time.
Indeed, the Willie Campbell tale is intriguing, from his duties at TCC, Essex County Club, and the Myopia Hunt Club, to his competitive exploits (he was sixth out of 11 entrants in the first US Open, in 1895), to his becoming the first greenskeeper and head pro when Franklin Park opened in 1896, to his death at age 38 in 1900.
''As best we can tell, it was cancer," said DeLacey, whose painstaking research offers plenty of evidence to support the notion that Willie Campbell was the first great club professional in the United States. He not only played it well, he loved to teach, and he also served as club-maker, ball-maker, and greenkeeper.
But in his void, it didn't take long for there to be a second great club professional. That's because Georgina Campbell took over from her husband.
Consider the year, 1900, and how it was well before women had achieved the right to vote and decades before political fights such as the Equal Rights Amendment or social causes such as women's liberation. Georgina Campbell herself, in a 1927 article in the Boston Post, one of the gems uncovered by DeLacey, conceded how far things had come for women in golf.
Recalling that in her early years in Scotland it had been considered bad taste for women to take a full swing with a golf club, ''now you can't get anywhere in the game unless you do."
So imagine the joy Georgina Campbell would have felt regarding the growth of the LPGA Tour, which began more than 50 years ago. It wasn't always so successful, but thanks to the determination of many of the women who'll be at Granite Links, the LPGA Tour is the oldest women's professional sports league.
Blalock, for one, has come to appreciate Georgina Campbell's role.
''To think what she accomplished in the era that she did it," said Blalock, who won 27 tournaments in her LPGA Tour career and is the guiding force behind the WSGT. ''She should be a hero to a lot of us."
Georgina had been involved in the golf business back in Scotland, but it wasn't until Willie called upon her to follow him to America, two years after he had arrived, that it became her passion, too. By then, Willie Campbell had left behind his duties at TCC, Essex, and Myopia to settle into his commitment at Franklin Park. Willie and Georgina lived in Dorchester, but they spent most of their time at the golf course, often working from 6 a.m. to sunset. After his death, she continued such a trend.
There was very little competition for women golfers at that time, though DeLacey's research seems to indicate that Georgina Campbell would score in the low 40s for the nine holes at Franklin Park, two of them being par 5s that stretched more than 500 yards.
She made clubs, made balls, ran the golf club, but, even more than her husband, she taught the game. From 1900-09 Georgina was the club professional, then she served as club matron from 1909 to 1926, when she retired at age 62.
During her days at Franklin Park, Campbell continued her husband's legacy -- teaching the game to all who wanted a part of it, so many of them women.
''It is not necessary to make any great effort when using the golf clubs," Georgina Campbell once explained when asked why so many women could play it. ''Hence, it is a grand exercise with the exact amount of effort used which suits the golfer's physique."
Georgina settled in Moultonboro, New Hampshire, and there are plans to turn that family home into a museum -- not specifically as a testament to her golf career, but more as a tribute to her life in the game and to celebrate that small, but proud town near Lake Winnipesaukee.
Though she never played the game passionately after settling in New Hampshire, Georgina remained a source of great joy, her storytelling bringing much pleasure to her grandson, Bob Lamprey.
''Her prophecy was her husband's prophecy," said Lamprey, who has made it his life's quest to research and study everything he can about his grandparents, even to the point of visiting ancestors in Scotland a few years ago.
''She believed passionately in bringing golf to the people, just like Willie."
Georgina Campbell lived a quiet, but fruitful life in New Hampshire before her death in 1953, which was three years after the LPGA Tour had been founded. Her grandson doesn't have any doubt that Georgina would be proud to be connected to the growth of golf in some small way.
''I have always been considered the first teacher in America and my friends consider me so, until real proof is offered that another preceded me," Georgina Campbell said in that 1927 article.
No substantial proof has ever appeared to dispute her claim, and the LPGA Tour legends who'll be taking part in this weekend's BJ's Charity Championship would perhaps echo the words that Georgina Campbell spoke nearly 80 years ago.
''I could play the game forever," she said. ''It keeps the physical system in excellent state, brightens the cheeks, gives luster to the eyes, invigorates the lungs, and also stimulates the mental qualities."
Spoken like a true ambassador.
NEWSPAPER CUTTINGS FROM THE PAST
WILLIE CAMPBELL BEAT TOM MORRIS
A professional golf match was played today at St Andrews between Tom Morris, St Andrews, and Wm. Campbell, Musselburgh. Two previous matches resulted in each player winning a match. Campbell played a good long game in the decider, and stood one up at the turn. At the end of the first round he was two up. The scores were: Campbell. 90; Morris, 92. In the second round Morris had the better of the play, and pulled one hole off Campbell. Morris squared the match at the second last hole, but Campbell won the last hole and the match.
WILLIE CAMPBELL OBITUARY
Regret will be felt in golfing circles generally at the announcement of the death of Willie Campbell, which took place on Sunday at Dor­chester, Maryland, USA. A native of Musselburgh, Willie for a time occupied a foremost place among Scottish professionals and, for that matter, among English players also.
Like several other well-known professional golfers, Willie in vain strove for Championship honours. But though those were denied to him, he made for himself a great name as a match player.
To see Willie at his best was to see him engaged in a match for a big money stake, playing be­fore a large crowd of spectators. Then he was in his very element. He was a most interesting golfer to watch, because he played a bold, dashing game, characterised often by great brilliancy of execution.
His very style - the marked rapidity of his swing, and the exceptionally fine work which he performed with the mashie - had in itself an attraction for the onlookers. Like Bob Ferguson, under whom he learned the game, Willie, when at his best, some ten or eleven years ago, was a really great match player. He was always eager for the fray, and so conspicuously successful was his record that he experienced no difficulty in those days in finding "backers."
Among the many important games in which Campbell took part was one over four greens against Archie Simpson , then of Carnoustie, in which he displayed magnificent form. and gained a decisive victory.
Willie excelled in all parts of the game. He was a powerful driver; and through the green when he had the ill-luck to get a bad lie, he played a very effective forcing stroke. It was, however, in the approach game that. he most excelled, for he used the mashie in truly masterly style. On the putting greens he was again very deadly, and he had a way. of running down long puts, which was very discon­certing to an opponent.
About six years ago he went out to America where he was first engaged in connection with the Boston Club.
Labels: THE WAY WE WERE