ORANGE BLOSSOM TOUR MATCH-PLAY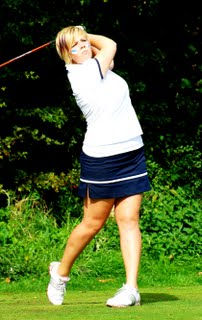 Jane Turner beats one Scot,
now
faces another in Florida
Robert Gordon University, Aberdeen student Jane Turner (Craigielaw) had to beat a Scot to clear her first-round hurdle - and she will have to conquer another compatriot if she is to make the last eight of the Doherty/Jones Challenge Cup women's amateur tournament at Coral Ridge Country Club, Fort Lauderdale, the third event on Florida's Orange Blossom women's amateur tour.
Jane,
pictured right by Cal Carson Golf Agency
, the No 12 qualifier of the 32 who came through Monday's stroke-play eliminator, beat Stirling University student Rebecca Wilson from Monifieth, the No 21 qualifier, by 3 and 2.
Jane now plays Majorca-based Scot Lauren Mackin who was the leading European qualifier as fifth seed.
Lauren beat American Marilyn Hardy, the 28th qualifier by 2 and 1.
Scottish Under-21 champion Kelsey MacDonald (Stirling University & Nairn Dunbar) is a third Scot in the last 16. The No 10 seed, she beat American Alexandra Hammer, the 23rd qualifier, by 7 and 5.
Kelsey's clubmate and Stirling squad-mate Eilidh Mackay, the No 31 qualifier, lost by 6 and 5 to the No 2 seed Kyle Roig (Puerto Rico), winner of the Harder Hall Invitational, the opening event on the Orange Blossom Tour.
Scotland international Louise Kenney (Pitreavie), the 13th qualifier, lost by one hole to American
Martha Leach, who qualified in 20th place. Louise, who was round in approximately level par, lost only to a birdie at the 18th against a highly-rated player who is the current holder of the US women's mid-amateur championship.
Stirling student Harriet Beasley from Woburn went down by 3 and 2 to No 11 seed Taylor Collins from the United States. Harriet was the No 22 qualifier.
Engand's amateur champion, the left-handed Charlie Douglass from Brocket Hall, was the day's biggest winner. She won by 8 and 6 over Susan West (US), the No 19 qualifier. Charlie qualified in 14th place.
Stirling University's Irish student, Rachel Cassidy, who failed to qualify for the championship match-play flight, had a bye through the first round of the Second Flight. So too did Jordana Graham (Stirling University & Southerness).
Catriona Matthew, North Berwick's Ricoh Women's British Open champion, won the Doherty/Jones Challenge Cup in 1992.
All the first-round losers in the championship flight will contest the First Flight of match-play from Wednesday onwards.
RESULTS (in draw order):
CHAMPIONSHIP FLIGHT
FIRST ROUND
Players from United States unless indicated
Seeded position in brackets
Top half of draw
Alexis Thompson (1) bt Cyndi Carlson (32) 5 and 4.
Meghan Stasi (17 bt Jaye Marie Green (16) 2 and 1.
Gennifer Mendez (8) bt Samantha Smolen (25) 6 and 5.
Ashley Smith (9) bt Natalie McNicholas (24) 5 and 4.
Tovie St Louis (4) bt Lin McMillan (29) 4 and 2.
Martha Leach (20) bt
Louise Kenney
(Pitreavie) (13) 1 hole.
Lauren Mackin
(Majorca & Ranfurly Castle) (5) bt Marilyn Hardy (28) 2 and 1.
Jane Turner
(Robert Gordon Univ & Craigielaw) (12) bt
Rebecca Wilson
(Stirling Univ & Monifieth) (21) 3 and 2.
Bottom half of draw
Kyle Roig (Puerto Rico) (2) bt
Eilidh Mackay
(Stirling Univ & Nairn Dunbar) 6 and 5.
Rene Soblewski (15) bt Julie Carmichael (18) 2 and 1.
Vanessa Vela (Colombia) (7) bt Nicole Whitmore (26) 6 and 5.
Kelsey MacDonald
(Stirling Univ & Nairn Dunbar) bt Alexandra Hammer (23) 7 and 5.
Amelia Lewis (3) bt Cynthia Friend (30) 6 and 5.
Charlie Douglass
(Brocket Hall) (14) bt Susan West (19) 8 and 6.
Daniela Lendl (6) bt Sara Banke (27) 2 and 1.
Taylor Collins (11) bt
Harriet Beasley
(Stirling Univ & Woburn) 3 and 2.
SECOND FLIGHT
FIRST ROUND
Megan Tuohy (1) bye.
Ariel Martin (9) bt Amy Michelle Levin (8) 4 and 3.
Rachel Cassidy
(Stirling Univ & The Island, Dublin) (4) bye.
Elizabeth Breza (8) bye.
Connie Isler (2) bye.
Llaura Martin (10) w.o. Mary Mulcahy (7) scr.
Jordana Graham
(Stirling Univ & Southerness) (3) bye.
Kerry Johnson (8) bye.
SENIOR CHAMPIONSHIP
FIRST FLIGHT
FIRST ROUND
Carolyn Creekmore (1) bt Meredith Wolf (32) 4 and 2.
Diane Lang (17) bt Alison Reifers (16) at 21st.
Annette Gaiotti (8) b t Susan Rampelberg (25) 4 and 3.
Lisa Schlesinger (9) bt Ginny Orthwein (24) 3 and 2.
Mary Jane Hiestand (4) bt Vilma Sapp (29) 6 and 5.
Elizabeth Haines (13) bt Debra Mielka (20) 4 and 2.
Diane Yelovich (28) bt Barbara Pagana (5) 1 hole.
Mimi Hoffman (21) bt Therese Quinn (12) 1 hole.
Connie Shorb (2) bt Teri de Luis (31) 3 and 2.
Cindy Morris (15) bt KJaren Ferree (18) 5 and 4.
Anna Schultz (7) bt Jan Phillips (26) 6 and 5.
Peggy Woodward (23) bt Ann Marie Hoffman (10) 2 holes.
Kim Eaton (3) bt Marlene Streit (30) at 24th.
Ivy Steinberg (14) bt Jewell Malick (19) 5 and 4.
Maggie Wieder (6) bt Denise Martorana (27) 7 and 6.
Ann Fulginiti (11) bt Mary CEichhom (22) 5 and 4.
Labels: Amateur Ladies