Meadow, Gould top Europeans in joint 10th place in Florida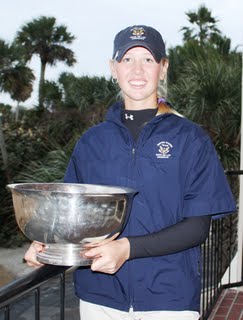 Jessica Korda books Curtis Cup
place for US
with brilliant
victory in "The Sally"
Jessica Korda, 16-year-old Florida-based daughter of former Czech Republic tennis ace Petr Korda, booked her place in the United States Curtis Cup line-up for the June match against Great Britain & Ireland, with a brilliant victory in "The Sally" - the South Atlantic Ladies Amateur stroke-play champonship - at Oceanside Country Club, Ormond Beach in Florida today.
Jessica, with her dad as caddie, won the second event on the Orange Blossom Tour in magnificent style with a 13-under-par total of 275, a record low for the event. Her 72-hole total for the par-72 lay-out was eight shots better than the winning score achieved by Alexis Thompson, also from Florida, last year.
Miss Korda,
pictured above with the trophy (by courtesy of Oceanside Country Club,
had scores of 75, 69, 62 and 69. Her third-round 10-under-par effort of 62 shaved one shot off the course record and was three shots inside "The Sally" previous one-round best. Her 17th birthday falls on February 27.
Candace Schepperle from Birmingham, Alabama is also a near-certainty for her first Curtis Cup honours after finishing second on 279. She was the only other player to be under par with her four-round totals. Candace scored 73, 68, 68 and 70.
Alexis Thompson, the 14-year-old who won the Junior Orange Bowl girls title a few weeks ago and was then runner-up in the Women's Dixie Amateur and again in last week's "Harder Hall Invitational" (beaten in a play-off), finished third on 284 in her defence of "The Sally" title.
Alexis, another "shoe-in" as they say in America for a Curtis Cup debut, had scores of 73, 71, 65 and 75.
The highest finish achieved by the British and Irish players in the quality field was joint 10th on 302, by Northern Ireland's South Carolina-based youngster Stephanie Meadow and Welsh international Lucy Gould who is studying for a Masters degree at East Tennessee State University.
Stephanie was in contention for the title after opening rounds of 71 and 70 but fell away to closing efforts of 81 and 80 (39-41), finishing with a double-bogey 6.
Lucy scored 76, 72, 79 and 75 (36-39) despite a bogey at the 15th and a double bogey 6 at the last.
Scottish Under-21 champion for the past two years, Stirling University student Kelsey MacDonald (Nairn Dunbar) finished joint 14th on 305 with scores of 80, 72, 74 and 79. Kelsey came third in last year's "The Sally." She had a double bogey 5 at the short 14th in an inward 43 today.
Majorca-based Scot, Lauren Mackin, a member at Ranfurly Castle) tied for 17th place with Scotland international Louise Kenney (Pitreavie) on 307. Lauren had steady rounds of 79, 75, 75 and 78 and could be a contender for a first Scotland cap if she came back to her home land for the "Helen Holm" in April or the Scottish women's (closed) championship at Craigielaw in May, with the proviso, of course, that she did as well in either or both events.
Louise Kenney was going well in joint 10th place with earlier rounds of 77, 71 and 75 but came to grief most unexpectedly with a closing round of 12-over-par 84. Louise had a birdie at the second but that was the sole highlight in halves of 38 and 46. She dropped eight shots to par over a run of four holes - triple bogeys at the 13th and 15th and a double bogey at the 16th.
Perhaps the most disappointing performance of the GB&I Curtis Cup preliminary squad was that of left-hander Charlie Douglass (Brocket Hall), the reigning English women's (closed) amateur championship. She scored 78, 82, 76 and 78 for 24th place.
Aberdeen student Jane Turner (Craigielaw) failed to break 80 in any of her four rounds as she scored 83, 80, 84 and 81 (44-37) for 328. She had three double bogey 6s very early - at the first, third and fifth.
On the same 328 mark - joint 38th - was Stirling student Rachel Cassidy (The Island, Dublin) with scores of 80, 83, 80 and 85 - disappointing for the player who was the top European finisher (in 20th place) in the Harder Hall Women's Invitational seven days ago.
READ THE LOCAL FLORIDA PAPER REPORT:
Jessica Korda, a 16-year-old from Bradenton (and from a tennis, not golf, family), blew away Alexis Thompson's year-old scoring record. A day after dropping jaws with a 10-under 62 at Oceanside Country Club, Korda posted a 69 Saturday for a 13-under 275 total.
Her lead was three strokes on the first tee, trimmed to one after seven holes, but four at the end after she dropped one final birdie putt on the par-4 18th. Thompson finished alone in third at 4 under, just one shot worse than her 2009 total but nine strokes out of first.
"I didn't think 13 under was possible," said Thompson, who played with Korda all four days. "It didn't seem like she ever hit a bad shot."
And to think, Korda was actually 5 over par after the first 12 holes of the tournament Wednesday.
"She played a great tournament. I don't mind coming in second," said Candace Schepperle, who saw a few chances come and go in Saturday's windy and cool conditions.

After making birdie on the par-5 seventh, Schepperle was just a shot behind Korda, but the par-4 eighth produced a two-shot swing -- Schepperle bogeyed No. 8 while Korda birdied after a great approach with a 5-iron that would become her magic wand.
The margin remained three shots as the lead threesome made its way to the middle of the 12th fairway, where Schepperle eyed a 5-wood second shot on the downwind par-5. Schepperle's normal right-to-left ball flight became a nasty left-to-left hook into the water.
"It was a little devastating when I hit that; I couldn't believe I did that," said Schepperle, who suffered a second blow when Korda hit a 5-iron to 20 feet and made her eagle putt, running the lead to six shots.
Korda used that same 5-iron on the par-3 14th, where she hit it to 6 feet and made birdie, and again on the closing hole -- "I was hitting that 5-iron really well," she understated.
The last bit of potential drama played out on the par-5 17th. Schepperle, who had rolled in a 60-foot bomb on the 15th, made birdie at 17 and was poised to approach 18 at a two-shot deficit, which is hardly insurmountable in such conditions. But Korda, who had hit her third shot at 17 into a greenside bunker, saved par from 10 feet to maintain a three-shot cushion.
"I knew, with the wind, we were gonna have a lot of tough holes coming in, and I knew anything could happen," Schepperle said. "I needed her to make a big score, and she almost did."
Almost, but not quite. Overall, however, Korda insisted it wasn't as easy as she made it look, especially Saturday.
"Cold and windy, a terrible combination," said Korda, who nevertheless said she hopes to return next year and defend her championship.
FINAL TOTALS
Par 288 (4x72)
Players for US unless stated
275
Jessica Korda 75 69 62 69.
279
Candace Schepperle 73 68 68 70.
284
Alexis Thompson 73 71 65 75.
293
Jaclyn Sweeney 76 69 72 76.
294
Meghan Stasi 70 73 71 80.
297
Taylore Karle 73 76 73 75.
298
Vanessa Vela (Colombia) 77 74 73 74.
300
Mitsuki Katahira (Japan) 75 74 74 77, Amelia Lewis 76 73 69 82.
302
Alexandra Stuart 75 74 73 80,
Stephanie Meadow
(Royal Portrush) 71 70 81 80,
Lucy
Gould
(Bargoed) 76 72 79 75 (jt 10th).
303
Kendall Prince 75 76 73 79.
305
Nicole Agnello 76 78 72 79, Morgan Thompson 79 75 73 78,
Kelsey MacDonald
(Nairn Dunbar)) 80 72 74 79 (jt 14th).
307 Louise Kenney (Pitreavie) 77 71 75 84, Lauren Mackin (Ranfurly Castle) 79 75 75 78 (jt 17th).
308
Martha Leach 80 77 70 81.
Selected scores:
314

Charlie Douglass
(Brocket Hall) 78 82 76 78 (24th).
322
Harriet Beasley (Woburn) 82 76 84 80 (30th).
328
Rachel Cassidy
(The Island, Dublin) 80 83 80 85,
Jane Turner
(Craigielaw) 83 80 84 81 (jt 38th).
344

Eilidh Mackay
(Nairn Dunbar) 91 89 79 84 (jt 53rd).
347

Jordana Graham
(Southerness) 83 85 92 87 (jt 58th).
359
Rebecca Wilson
(Monifieth) 95 97 80 87 (jt 72nd).
Labels: Amateur Ladies