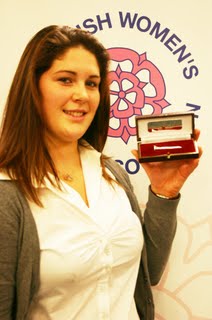 Sian James earns special award for
combining
golf and education
NEWS RELEASE ISSUED BY THE ENGLISH WOMEN'S GOLF ASSOCIATION
Gloucestershire's Sian James is top of the class with her studies and her golf – and her skills have earned her a special award from the English Women's Golf Association.
She has won the association's Silver Tee Award for the way she combines her golf and education. It was presented to her at the EWGA annual meeting by award sponsor Andrew McGowan of Regent Silversmiths of Birmingham.
Sian, who is a member at Bristol & Clifton, is in the second year of a degree course in applied golf management at Birmingham University.
Alongside her studies last year she helped an all-woman team from her university become the World Student Match-play Champions. Sian also won the women's title at the R&A Foundation Scholars tournament, was runner-up in the British universities strokeplay championship, and represented Gloucestershire at County Finals.
Sian thanked both EWGA and Regent Silversmiths for her award, commenting: "This is very much appreciated.
"I am very grateful to EWGA for their continued support while I am at university and I'm doing my best with both my golf and my studies."
Lyndsey Hewison
Press & PR Officer
+Image of Sian James by courtesy of the English Women's Golf Association

.
Labels: Amateur Ladies