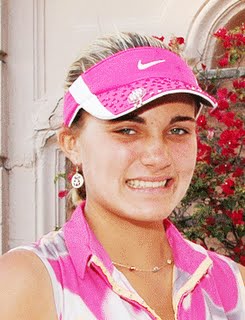 Alex Thompson (only 14) has already
switched to new grooves!

FROM THE GOLFWEEK.COM WEBSITE
By Sean Martin
With Alexis Thompson's 15th birthday not coming until February. 10, it's safe to say the pro game is still a couple years away for the young phenom
But rising American star Thompson,
pictured right
, recently made a change that should help her when she does start playing for pay, and in the handful of LPGA starts she's expected to make this year. Thompson switched to irons and wedges with the new, conforming grooves the December week of the Junior Orange Bowl, which she won.
Players competing in LPGA events (including amateurs) have to use the new grooves starting this season, but the new grooves won't be mandatory for elite amateur events (like the U.S. Women's Amateur) until 2014. Everyone else has to switch in 2024.
Thompson, Golfweek's female junior amateur player of the year for 2009, could use the old grooves in amateur events this year, but hopes the full-time switch will put her ahead of the curve when she competes against professionals.
Thompson will likely be one of the amateurs invited to the Kraft Nabisco Championship (she shared low-amateur honors last year), and has qualified for the past three U.S. Women's Opens.
Thompson's success hasn't been slowed by the change. With the new grooves, she won the Orange Bowl girls' title, tied for second at the Women's Dixie Amateur, lost a play-off at the Harder Hall Invitational and finished third at The Sally (South Atlantic Ladies Amateur) which finished at the weekend.
Editor's Note: Look out for Alexis (new grooves and all) making her Curtis Cup debut against GB&I at Essex County Club, Manchester by the Sea, Massachusetts in June.
Labels: Girls