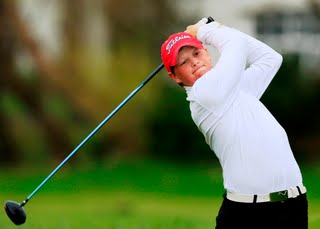 Andrew Cooley and Tom Berry help
San Diego
State to team victory
English students Andrew Cooley and Tom Berry helped San Diego State University win the team championship in the Barona Collegiate Cup tournament at Barona Creek Golf Club, Lakeside in California on Thursday and Friday.
Cooley,
picture by courtesy of Tom Ward
Photography
, a sophomore student from Surrey finished joint 28th with scores of 76, 73 and 72 for a total of five-over-par 221 over the 7324yd course.
Berry, a freshman, also from Surrey, had scores of 76, 74 and 73 for 223 and a share of 36th place in the field of 104 players.
John Chin (UC-Irvine) was the individual title winner with scores of 65, 71 and 68 for 12-under-par 204 - some shooting! Chin won by three strokes.
San Diego State (1072) won the team event from UC-Irvine (1094) and Orewgon (1097) in a field of 16 teams.
Labels: US COLLEGES