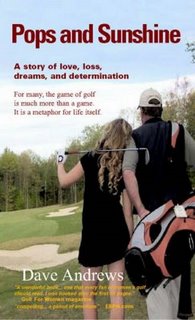 NEW EDITION OF DAVE ANDREWS'
NOVEL COMING OUT LATER
THIS MONTH
By COLIN FARQUHARSON
Here's an update from Dave Andrews, American author of the novel "Pops and Sunshine" which is a love story played out to the background of the US Duramed Futures Tour:
"I heard back today from a woman at the London office of IMG World. They are involved in organizing the Women's British Open as well as an LPGA event here in the States.
"They are going to consider my book as an item for the VIP gift bag at the Open.
"I have been writing all the LPGA events organizers with that suggestion and pointing them to the great reviews that keep coming in on the book ( more than a dozen now).
"I have done some rewriting of the story ... added a prologue and an epilogue... improved a lot of the dialogue (much of which was terrible) ... and modified a lot of the descriptive lines that some women readers have had issues with.
"The new edition will be coming out at the end of January. A lot of promotional developments are in the works now. I even have a lot of interest in Australia and some possible joint-marketing possibilities with a golf ball manufacturer there."
DAVE ANDREWS
Concord
New Hampshire
+ If you want to order a copy direct from the author, you can E-mail Dave Andrews at
popsandsunshine@comcast.net
. Simply give your mailing address. When you receive your book, send back a cheque to Dave Andrews, for $24.95 which includes half the $ transatlantic postage. Dave will cover the other half himself
.
Labels: WHAT TO READ