LPGA Tour News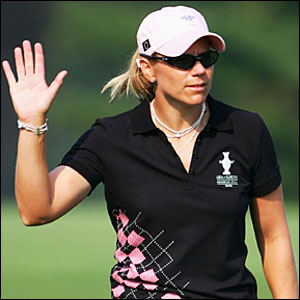 Annika Sorenstam
wins
by
seven strokes for No 72
FROM THE LPGA TOUR WEBSITE

:
Annika Sorenstam convinced her doubters than she is in fact back to her pre-injury form with a seven-stroke victory at the Michelob ULTRA Open at Kingsmill, Williamsburg, Virginia on Sunday.
After starting the day with a three-stroke lead, Sorenstam proceeded to card a final-round 66 with seven birdies and just two bogies on her way to a tournament-record 19-under-par (64-66-69-66=265) for the week.
In doing so, Sorenstam captured her 72nd career win and became the first LPGA player to surpass the $22 million mark in career earnings ($22,081,561).
"Winning this tournament is just a wonderful feeling," Sorenstam said after accepting the $330,000 first-place check, which put her over $1 million in a season for the 10th time in her career. "I think I feel just relieved, I feel at peace with myself knowing I can play this golf course."
The Swede trailed by one following the first round on the River Course at Kingsmill Resort and Spa, but extended her lead to three after both the second and third rounds.
A convincing 5-under-par 66 in the final round effectively held off a charge mounted by Allison Fouch, who fired a final-round 64 to finish at 12-under-par 272 alongside England's Karen Stupples (67-69-70-66); Jeong Jang (67-66-69-70); and Christina Kim (70-67-66-69).
Sorenstam also earned 30 vaulable Rolex Player of the Year points and now sits just 54 points off the pace set by world number one Lorena Ochoa, who finished tied for 12th at 7-under-par 277.
"I'm very proud of the way I played this week and I'm very happy with the way I've been hitting especially my iron shots and I've been making a lot of the putts," Sorenstam said.
Ochoa (65-68-74-70=277) was just three strokes back entering the weekend, but played herself out of contention with a third-round 74. Her 12th place finish is her first outside the top-10 since the 2007 Hana Bank ? KOLON Championship.
Par 284 (4 x 71)
265
Annika Sorenstam (Swe) 64 66 69 66
272
Karen Stupples
(Eng) 67 69 70 66, Christina Kim 70 67 66 69, Allison Fouch 69 71 68 64, Jeong Jang (Kor) 67 66 69 70.
273
Katherine Hull (Aus) 70 69 70 64
274
Sophie Gustafson (Swe) 71 71 66 66, Candie Kung (Tai) 66 74 66 68
276
Jee Young Lee (Kor) 68 71 67 70, Stacy Prammanasudh 66 72 69 69, Maria Hjorth (Swe) 68 71 66 71
277
Shi Hyun Ahn (Kor) 71 71 72 63, Meena Lee (Kor) 67 68 73 69, Lorena Ochoa (Mex) 65 68 74 70, Hee Young Park (Kor) 66 72 70 69
278
Paula Creamer 71 69 70 68, Ya-Ni Tseng (Kor) 70 69 72 67, Sun Young Yoo (Kor) 64 75 71 68, In-Bee Park (Kor) 67 72 67 72, Song-Hee Kim (Kor) 66 71 70 71, Suzann Pettersen (Nor) 71 71 65 71
279
Laura Davies
(Eng) 71 71 70 67, Marisa Baena 69 73 69 68, Ji-Young Oh (Kor) 69 69 68 73, Kris Tamulis 68 71 69 71
280
Jimin Kang (Kor) 67 69 71 73, Teresa Lu (Tai) 70 70 69 71, Laura Diaz 70 69 68 73
281
Na Yeon Choi (Kor) 69 73 68 71, Juli Inkster 68 70 74 69,
Becky Morgan
(Wal) 67 69 74 71, Sandra Gal (Ger) 68 70 73 70, Dina Ammaccapane 68 72 74 67
282
Kyeong Eun Bae (Kor) 69 73 72 68, Jamie Hullett 69 71 72 70, Pat Hurst 69 71 69 73, Helen Alfredsson (Swe) 67 73 70 72
283
Heather Young 70 71 69 73, Na On Min (Jpn) 72 68 70 73, In Kyung Kim (Kor) 72 70 74 67, Karrie Webb (Aus) 70 71 69 73, Kristy McPherson 68 68 73 74,
Janice Moodie
(Sco) 66 73 76 68
284
Natalie Gulbis 69 73 71 71, Louise Friberg (Swe) 69 69 72 74, Beth Bader 68 70 73 73, Cristie Kerr 68 71 73 72, Angela Stanford 69 70 73 72, Michele Redman 72 70 70 72
285
Sophie Giquel (Fra) 69 73 73 70, Hee-Won Han (Kor) 74 68 71 72,
Mhairi McKay
(Sco) 63 77 73 72, Brittany Lang 71 71 75 68, Danielle Downey 70 71 74 70
286
Diana D'Alessio 65 72 74 75, Marcy Hart 69 71 71 75
287
Eun Hee Ji (Kor) 66 75 75 71, Lindsey Wright (Aus) 71 71 74 71, Katie Futcher 69 72 72 74, Sarah Kemp (Aus) 70 71 72 74
288
Sung Ah Yim (Kor) 69 71 72 76, Nicole Castrale 72 68 76 72
289
Catriona Matthew
(Sco) 69 70 71 79, Nancy Scranton 72 70 74 73, Meredith Duncan 68 68 77 76
290
Johanna Head
(Eng) 74 67 74 75
291
Emily Bastel 69 73 73 76, Russamee Gulyanamitta (Tha) 68 73 74 76, Leta Lindley 69 73 77 72
292
Soo-Yun Kang (Kor) 68 71 78 75, Alena Sharp 70 72 74 76
293
Carolina Llano (Col) 68 74 75 76
Labels: LPGA TOUR