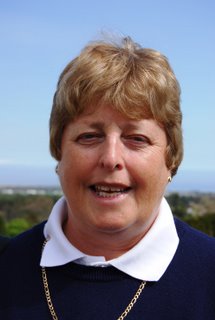 Mary McKenna appointed GB&I captain
for 2009 Vagliano Trophy in Germany
and 2010 Curtis Cup in United States
PRESS RELEASE ISSUED BY LADIES GOLF UNION
The Executive Council of the Ladies' Golf Union is pleased to announce that Mary McKenna has accepted an invitation to captain the Great Britain and Ireland teams for the 2009 Vagliano Trophy and the 2010 Curtis Cup.
Mary, who captained the teams in 2007 and 2008, will again be supported by Tegwen Matthews as team manager.
One of Ireland's leading female amateurs, Mary won eight Irish Championships between 1969 and 1989, and participated in nine successive Curtis Cup matches and ten Vagliano Trophies
. Tegwen was the first Welsh player to be picked for a Curtis Cup team, ultimately playing in four Curtis Cup matches and five Vagliano Trophies.
Ladies' Golf Union Chairman, Trish Wilson, says
"With these golfing pedigrees, the team could not be in better hands than those of Mary and Tegwen. I firmly believe that a number of the members of the current team will form a core part of both the 2009 Vagliano and 2010 Curtis Cup teams, and the rapport already in place between the players, the captain and the manager will be invaluable going into the next series of matches."
The Vagliano Trophy will be played at Hamburger Golf Club, Falkenstein, Germany on 24 and 25 July 2009, while the 2010 Curtis Cup returns to Essex Country Club in Manchester, Massachusetts from 11 to 13 June 2010.

Captain Mary McKenna
(picture above by Cal Carson Golf Agency, all rights reserved)
says
"I am very pleased and honoured to accept the role of captain again, and look forward to working with the LGU, the girls and my right hand woman Tegwen for the next two years. Without a doubt, the Curtis Cup at St Andrews will always rank as one of my greatest experiences, and I very much hope that my next great experiences will be to escort both it and the Vagliano Trophy back to Great Britain and Ireland."
Labels: Amateur Ladies