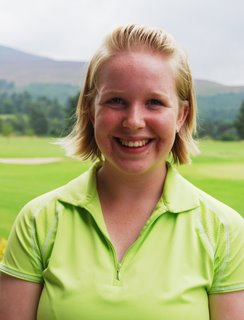 Sammy Leslie comes back
from injury with her
lowest ever score of 71

By COLIN FARQUHARSON
Samantha Leslie injured a wrist during her first-round defeat by Mhairi Johnstone in the recent Scottish Under-18 girls' championship at Alyth. She damaged ligaments in her right wrist when she hit part of a underground tree root she didn't know was there in playing a shot.
The silver lining to this story is that Samantha, pictured right by Cal Carson Golf Agency (all rights reserved), was forced to take a three-week rest from golf - and then made a comeback on Sunday to return her lowest ever score, a par 71 at Ballater in the Aberdeenshire girls' medal competition.
Sammy, as she likes to be called, is now a Murcar Links Golf Club member after moving from the Westhill club. Her handicap of five could be coming down after this gross score which matched the CSS of 71.
She had birdies at the first, fourth, sixth and 17th in halves of 35 and 36, very good scoring despite the quite windy conditions.
"I'm still wearing a support bandage on my wrist but I think it's better now. Maybe I should take more breaks from golf ! And I should have been a one-under-par 70 because I missed a birdie putt of about 2 1/2 feet on the last green," said Sammy who is 16 and has left school but will be going to college in the autumn.
Sammy won the scratch section at Ballater by six shots from Louise McGillivary (Banchory) with Megan Clyne (Deeside) third on 79 in a field of 23.
Megan had some spectacular figures in her halves of 39 and 40 - an eagle at the first hole and birdies at the fourth, 17th and 18th.
Nine year old - she had her birthday only a week or two ago - Shannon McWilliam (Aboyne) made her debut on the Aberdeenshire girls circuit and was delighted to win a prize at the first attempt. Shannon had a net 82 off her handicap of 34.
Par 71. CSS 71
71 Samantha Leslie (Murcar Links).
77 Louise McGillivary (Banchory).
79 Megan Clyne (Deeside).
83 Fiona Fullerton (Huntly).
84 Mhairi Johnstone (Northern).
86 Kimberley Beveridge (Aboyne).
87 Kirsten MacCallum (McDonald Ellon), Claire Prouse (Hazlehead).
90 Tegan Seivwright (Peterculter).
93 Vikki Powell (Deeside).
97 Kristina Vannet (Peterculter).
Class 1 (handicaps 0-10)
Louise McGillivary (Banchory) (7)
70.
Class 2 (handicaps 11 to 13)
Megan Clyne (Deeside) (11)
68.
Class 3 (handicaps 14 to 20)
Tegan Seivwright (16)
74
(better inward half).
Class 4 (Bronze Division)
Olivia Borwick (McDonald Ellon) (28)
81
.
Shannon McWilliam (Aboyne) (34)
82.
++This coming Sunday it's the North of Scotland girls' championship at Banchory. Full report, scores and pictures on this website on Sunday evening.
+SCROLL DOWN FOR A PICTURE OF THE PRIZE-WINNING GIRLS
AT BALLATER.
Labels: Girls