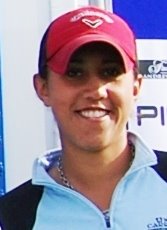 Hole in one gives Dutch girl
share of lead with Sahra

Netherlands girls international Caroline Karsten joined Curtis Cup reserve Sahra Hassan in the lead at one-under-par 143, thanks to a hole in one in the second round of the Ladies' British open amateur championship at Malone Golf Club, near Belfast.
It was the second ace that Caroline had ever had and she did it with a seven iron at the 132yd 15th hole.
Caroline hit the bullseye with her tee shot, the ball going straight into the cup without a bounce.
She finished on 71, one better than her Wednesday score, having holed putts of around the 20ft mark for birdies at both the opening holes. She gave these shots back with a double bogey 5 at the short fourth and turned in level par 37.
After a bogey at the 11th put her one over-par for the day, Karsen had a good sand save at the 12th before producing her eagle 1 at the 13th to get to one under the card and that's how it remained with pars at the remaining holes for 34 home and a 71.
Sahra Hassan
(pictured above by Cal Carson Golf Agency, all rights reserved),
had earlier taken the early afternoon lead on a bright, sunny day with a 71 for 143..
Welsh international Sahra, 19-year-old member of the Vale of Glamorgan club, felt she did not play as well as she did for her first-day par score of 72, "but I did scramble well," she said.
Hassan had one birdie fewer than on Wednesday but also two bogeys less.
Sahra was able to save par figures at the second and fourth from off the green and got one of the rare tournament birdies at the par-4 fifth - statistically the toughest hole on the course in the first round.
Hassan hit the green with a rescue wood second shot and holed a 6ft putt for a 3 and she also birdied the long seventh. A shot dropped at the ninth put her out in one-under-par 36.
From there in it was nine straight pars with the Vagliano Trophy player unable to convert any of her birdie chances.
England girl international Rachel Connor from Manchester claimed the honour of being the first player to return a sub-70 score in the championship.
Rachel, a member of the winning England team at the recent girls' home internationals at Panmure and the runners-up in the European girls' team championship, also in Scotland, shot a three-under-par 69, thanks to covering the last 13 holes in six under par.
For the first five holes, Connor went from an overnight three over par to six over par overall with bogeys at the second, third and fifth.
A birdie at the short sixth lit the flame for Rachel and she followed it up with further birdies at the long seventh, ninth, short 15th, 16th and 18th in halves of 37 (level par) and 32 (three under par).
That gave the 18-year-old daughter of the Scots-born Manchester club professional, Brian Connor, a level par aggregate of 144.
Valerie Sternebeck from Germany matched Wednesday's leading score of 70 with halves of 35 and a two-round total of 145.
Kylie Walker, only one shot off the pace overnight, slipped back to two-over 146 with a 75 (39-36). She birdied the first but dropped shots at the second, fifth, sixth and 10th. In her first round she covered the first nine holes in 35.
Only the leading 40 and ties at the end of the second round will go forward to Friday's final 36 holes.
The projected cut figure in mid-afternoon was that players with aggregates of five-over-par 149 or better would qualify.
If that were to prove the case - and forecasts of cut figures are not always correct - then Curtis Cup players Elizabeth Bennett (Brokenhurst Manor) on 150 and Florentyna Parker (Royal Birkdale) on 151 would be eliminated.
Also on 151 is the new Swiss open amateur champion Pamela Pretswell (Bothwell Castle) who improved with a second-round 74 but perhaps not enough to retain an active interest in the tournament.
SECOND ROUND TOTALS
Par 144 (2 x 72) First round CSS: 76
143 S Hassan (Vale of Glamorgan) 72 71, C Karsten (Net) 72 71.
144 R Connor (Manchester) 75 69.
145 V Sternebeck (Ger) 75 70, T Davies (Holyhead) 71 74.
146 K Walker (Buchanan Castle) 71 75, C Aitken (Mid Kent) 70 76, N Kitching (Claremorris) 73 73, T Delaney (Carlow) 77 69.
147 R Jennings (Izaak Walton) 74 73, M De Roey (Bel) 76 71, M Nivard (Net) 71 76.
148 M Ricordeau (Fra) 75 73, H Jenkins (Cradoc) 75 73.
149 C Lee (West Lancs) 72 77, R Niven (Crieff) 75 74, S James (Bristol & Clifton) 74 75, C De Vries (Net) 77 72, D McVeigh (Royal Co Down) 79 70, N Edwards (Ganton) 79 70.
150 J Van Baarle (Bel) 74 76, E Bennett (Brokenhurst Manor) 74 76, K Smith (Waterlooville) 73 77.
151 P Pretswell (Bothwell Castle) 77 74, F Parker (Royal Birkdale) 72 79, Leona Maguire (Slieve Russell) 73 78, C Booth (Comrie) 74 77, A De Luigi (Ita) 74 77.
152 C Wild (Mere) 77 75, C Ellis (Minchinhampton) 80 72, H Ralph (Cowdray Park) 79 73.
153 S Evans (Vale of Llangollen) 77 76, V Derrey (Fra) 78 75, H Aitchison (Bedfordshire) 78 75, K Delaney (Carlow) 73 80, M Briggs (Kilmacolm) 76 77, S Attwood (Gog Magog) 75 78.
154 B Genuini (Fra) 75 79, K Van Leeuwen (Net) 76 78.
155 M Naafs (Net) 77 78, G O'Leary (Cork) 80 75, A Decharne (Fra) 79 76, E Prando (Ita) 77 78, K Larratt (Kibworth) 80 75, L Coffey (Malone) 79 76.
156 K Whitmore (Sandiway) 78 78, S Kreuger (US) 76 80, L Jansone (Latvia) 78 78
157 S Meadow (Royal Portrush) 78 79, M Thomson (McDonald Ellon) 82 75, S Birks (Wolstanton) 79 78, K MacDonald (Nairn Dunbar) 77 80.
158 R Cassidy (Stirliny Univ) 79 79, F Sanderson (Heworth) 82 76.
159 F Constantini (Ita) 81 78, H Fitzgerald (Newmarket) 81 78, R Drummond (Beaconsfield) 82 77, T Hodler (Woburn) 79 80.
160 A Murphy (Carlow) 81 79, R Lewis (Newport) 79 81, G Webster (Hilton Park) 79 81.
161 T Boyes (Meon Valley) 83 78, J Carthew (Ladybank) 85 76.
162 K Kuijesters (Net) 81 81, L Macklin (Majorca) 84 78, L Mernagh (Woodenbridge) 83 79, A Carling (Vale of Glamorgan) 81 81, S Wood (Drumpellier) 80 82.
163 I Alvarez Valcarce (Spa) 86 77, C Douglass (Brocket Hall) 82 81, G Brooks (Mill Ridge) 83 80.
164 L Chermarin (Fra) 83 81, L Willliams (Mid Herts) 87 77, L Ball (Matfen Hall) 83 81, U Mbuko (Nigeria) 85 79, J Meldrum (Dullatur) 84 80.
167 M Skowrowski (US) 78 89.
169 A Niven (Crieff) 81 88, L Barton (Coventry) 84 85, J Hodge (Knowle) 82 87.
170 B Dowell (Enmore Park) 84 86.
176 L Lewis (Aus) 93 83.
Retired - G Butler (Newlands) 82 -.
Labels: Amateur Ladies