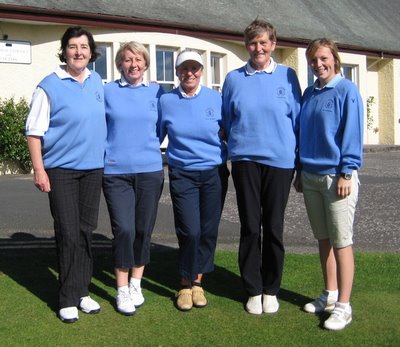 Kilmacolm team that beat Douglas Park in the seventh round of the "Mail on Sunday" competition. Left to right: Rena Simpson, Morag Turner, Annabel Kane, Marion Stewart and Megan Briggs. Eildih Briggs was missing on that occasion.
Briggs sisters an inspiration to Kilmacolm
team in 'Mail on Sunday' competition
Kilmacolm are looking forward to their "Mail on Sunday" match against Murcar Links on Saturday, September 6.
"Although we have reached Round 7 on a number of occasions, the last being against Royal Dornoch at Dornoch, we have never reached Round 8," said team captain Anne Dunn.
"This year we are very fortunate to have Megan and Eilidh Briggs playing for us. Megan, who plays off scratch, is our current club champion as well as being the current Renfrewshire county champion. Eilidh, who plays off three, was runner-up in both the club and county championships. "The girls have been members of the club for about five years and have played in Home Internationals at both girls' and adult level. They are a great inspiration to our lady members - perhaps this is why we have progressed further in this competition than previously.
"With their very busy schedules we have not had the advantage of them playing in all our ties so credit must go to the rest of the pool:
Marion Stewart - handicap 10.
Morag Turner - 11.
Rena Simpson - 11.
Sally Wilbur - 12.
Annabel Kane - 13.
Beatrice Orr - 15.
Annette Baillie - 16.
"Sally was unable to play in out last two ties as she got married in July and was too busy with all preparations for the wedding and then being away on honeymoon.
"This should be a very interesting tie and I hope the weather is clement not only for the teams but particularly for those of us who are travelling up to support them."
Labels: Amateur Ladies