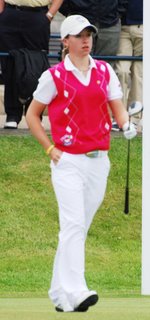 Jodi Ewart made cut in L E T event
PRESS RELEASE ISSUED BY ENGLISH WOMEN'S GOLF ASSOCIATION
English amateur stroke-play champion Jodi Ewart made the cut when she played alongside the professionals of the Ladies European Tour for the first time.
The Curtis Cup player from Catterick, pictured right by Cal Carson Golf Agency leaving the first tee at St Andrews, made it through on the mark after she birdied the 36th hole of the S4C Wales Ladies Championship of Europe at Machynys Peninsula. It gave the amateur a two-round total of two over par with rounds of 72 and 74.
The third round was cancelled because of unplayable conditions. Jodi signed off with a final round 74 and a share of 54th place on four over par.
The championship was won by Lotta Wahlin of Sweden on seven-under par.
Jodi, 20, is now due to return to the United States where she is a student at the University of New Mexico.
Lyndsey Hewison
Labels: Amateur Ladies