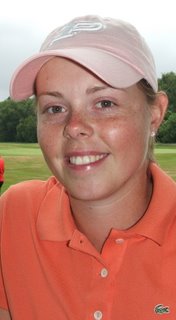 Netherlands lead by four in team event
Netherlands (142) were leading by four strokes from three teams - Ireland, England and Scotland - at the end of the first day in the interntional team event staged in conjuntion with the first two rounds.
Christel Boeljon
(pictured right by Cal Carson Golf Agency, all rights
reserved)
and Dewi-Claire Schreefel both scored one-under-par 71s which meant the Netherlands were able to discard the par 72 scored by Caroline Karsten.
Only the best two from three scores count daily over the first two days.
Here is how the teams stand at the moment:
142
NETHERLANDS (Christel Boeljon 71, Dewi-Claire Schreefel 71).
146
IRELAND (Leona Maguire 73, Lisa Maguire 73); ENGLAND (Hannah Barwood 73, Kerry Smith 73) &
SCOTLAND
(Kylie Walker 71, Roseanne Niven 75).
147
WALES (Sahra Hassan 72, Hannah Jenkins 75).
148
FRANCE (Lucie Andre 73, Barbara Genuini 75).
150
ITALY (Alessandra De Luigi 74, Marianna Causin 76).
Labels: Amateur Ladies