British women's open amateur stroke-play championship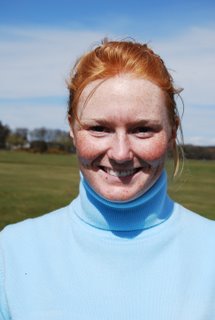 Kylie Walker top Scot with a 71
in first round at Malone
Long-hitting Kylie Walker,
pictured right by Cal Carson Golf
Agency (all rights reserved),
came in late in the day to share third place on one-under-par 71 at the end of the first round of the 72-hole British women's open amateur stroke-play golf championship at Malone Golf Club, near Belfast.
The Buchanan Castle player, winner of the St Rule Trophy over the Old Course in May, used her strength to birdie two par-5 holes, the third and the seventh, and she also birdied the 16th.
But bogeys at the 14th and tricky 18th cost her at least a share of the lead on 70 with Kent county player Claire Aitken and Junior Solheim Cup player Audrey Goumard from France.
Emily Ogilvy (Auchterarder) is in joint 12th place on 73 with birdies at the first and 16th but shots shed at the third, 11th and 13th.
Comrie's Carly Booth did well to finish on 74. She covered the last 17 holes in level par after four-putting the first hole for a double-bogey 6, the kind of start that might demoralise players a lot older than the 16-year-old Curtis Cup player who did not qualify for the match-play stages of the British girls at Monifieth last week.
Mind you, neither did Audrey Goumard, the French teenager who is sharing the lead. Which just goes to show you what a difference a week makes in the world of golf.

Roseanne Niven (Crieff), who did well on her last visit to the Emerald Isle for the Irish women's open stroke-play, started with steady halves of 38 and 37 for a 75, the same score incidentally as Barbara Genuini, the French girl who won the "Helen Holm" at Troon at the start of the season.
Megan Briggs (Kilmacolm) and Laura Murray (Alford) are in joint 34th place on 76. A repeat of that, or preferrably an improvement, would get them into the top 40 and ties for the last two rounds.
But Scottish Under-21 title-holder Kelsey MacDonald (Nairn Dunbar), Louise Kenney (Pitreavie) and Swiss open amateur champion Pamela Pretswell (Bothwell Castle) are on the "tightrope" mark of joint 43rd with 77s.
Scottish champion and Curtis Cup player Michele Thomson (McDonald Ellon) has put herself under severe pressure to beat the halfway cut
.
Only the leading 40 and ties after Thursday's second round will go forward to Friday's final 36 holes.
Michele is in joint 83rd position after a 10-over par 82 with halves of 41. She just never got going and could not pick up a single birdie, a disappointing state of affairs for a player who hits the ball a country mile. She had a double-bogey 7 at the long 17th.
Robert Gordon University student Laura Murray from Alford was the leading North player with a 76 after reaching the turn in 39. She had only one birdie, the 17th, but she avoided any double bogeys.
Scottish schoolgirls champion Kelsey MacDonald and Carly Booth both began with double bogey 6s.
Carly four-putted the first green and had another double bogey 6 at the eighth but she had birdied the second and fifth and covered the last 10 holes in level par for a creditable, battling 74. She did birdie the short 15th but dropped a shot at the par-3 12th
.
Kelsey reached the turn in three-over 40 and bogeys at the 10th, 12th and 13th put her six over for the day but she finished with a smile on her face and hope for the next day with a birdie at the 18th, a par-4 hole which cost many players 5s and 6s.
CLAIRE AND AUDREY SHARE LEAD ON 70

Former Kent county champion Claire Aitken and Junior Solheim Cup player Audrey Goumard from France shared the lead on two-under-par 70 at the end of the long first day.
Claire, 22, whose string of successes last season included the Roehampton Gold Cup, the prestigious Critchley Salver, Hampshire Rose and Frilford Heath Salver, needed a par at the last for a 69 and a clear lead to carry over to the second round.
But she bogeyed the testing par-4 hole after running into some tree trouble and had to settle for a share of the honours with Goumard who was runner-up to Kylie Walker in the St Rule Trophy this year.
In the early part of her round, Aitken, a member of the Mid Kent club, looked on course for a sub-70 round. She started with a flourish, birdieing the second, third, fourth and seventh and was still four-under-par (33) at the turn.
Claire's first mistakes came with back to back bogeys at the 12th, where she was bunkered, and 13th, where she missed the green and could not get up and down, but she got her momentum back by holing a 30ft putt for a birdie 2 at the short 15th ... only to take that 5 at the 18th.
Audrey Goumard, an 18-year-old +3 player from the Pay de La Loire region in west France, demonstrated how much things can change from one week to the next in golf.
Last week, she failed by several shots to qualify for the match-play stages of the British girls' championship at Monifieth. But over she goes to Northern Ireland - and the change of scenery worked wonders for her.
Audrey took over the lead just before mid-afternoon with a two-under-par 70 after first Caroline Karsten had posted a 72 and then her Netherlands compatriot, Marieke Nivard, had bettered that with a 71.
A third Dutch player, Dewi-Claire Schreefel, came into the picture with a 71 after a spectacular run of back-to-back birdies on the inward half. And yet another competitor from the Netherlands, Christel Boeljon, later joined her compatriots on 71
Audrey Goumard deviated from par only four times in halves of 36 and 34. She birdied the first, bogeyed the second, birdied the third and then reeled off a string of pars until birdieing the 18th.
Dewi-Claire Schreefel, very experienced in international golf, is a former winner of the major American women's college title, the NCAA championship. A sub-par round for her looked out of the question when she started moderately with bogeys at the first, second, fourth and fifth
.
But birdies at the seventh and eighth were a sign of great things to come. Turning in 39, Schreefel slipped back with a bogey at the 11th. Then she caught fire with birdies at the 13th, 14th, 15th and 16th, a run of 3-3-2-3, in an inward half of three-under-par 32.
At the 13th and 14th, she chipped in from off the green, flopping her ball over a bunker and into the hole at the 14th.
Marieke Nivard, 18, from Eindhoven, won the Germany girls' open championship this summer and also played for the Netherlands in both the European women's and girls' team championships.
She birdied the long second but dropped a shot at the par-5 sixth before getting another birdie 4 at a long hole, the seventh, and then bogeying the eight in matching the outward par of 37.
Marieke had only one deviation from par after the turn and that was a birdie at the 13th in coming home in 34 for a 71.
Christel Boeljohn, who plays off +4 and is a golf scholarship student at Purdue University at West Lafayette, Indiana, made it three Dutch players on 71.
She birdied the second and third but dropped a shot at the fifth in turning in 36. She got two more birdies on the inward half, at the 10th and 17th, but a double-bogey 6 at the 14th cost her the lead.
Christel finished joint 10th in a Ladies European Tour event at Eindhoven earlier in the summer. Tara Davies (Holyhead), the 2006 Welsh girls champion, and Kylie Walker joined the Dutch trio on 71 late in the day.
Tara had one of the best finishes all day, birdieing both the 17th and 18th for 35 home after starting well with birdies at the third and ninth.
Four players leading the Irish challenge are on the one-over 73 mark. They are the 13-year-old Maguire twins from the Slieve Russell club, Leona and Lisa, Karen Delaney (Carlow) and Limerick University student Niamh Kitching (Claremorris).
Also on 73 is the English women's champion, 17-year-old Hannah Barwood (Knowle).
The LGU's introduction of four digital clocks at regular intervals on the course produced an immediate speeding-up of of the pace of play in the British girls championship last week. The improvement was maintained this week with rounds averaging around the four-hour mark.
The players are given times by which they must past each clock along the way. The first "bad time" draws a warning, the second a one-stroke penalty, the third a two-strong penalty and the fourth - DISQUALIFICATION!
Some official governing body had to take a positive step to counter the creeping menace of slow play in golf and full marks to the Ladies Golf Union for doing it.
FIRST-ROUND SCORES
Par 72
70
Audrey Goumard (Fra) 36-34, Claire Aitken (Mid Kent) 33-37.
71
Marieke Nivard (Net) 37-34, Dewi-Claire Schreefel (Net) 39-32, Christel Boeljon (Net) 36-35, Tara Davies (Holyhead) 37-34,
Kylie Walker
(Buchanan Castle) 35-36.
72
Caroline Karsten (Net) 37-35, Corisande Lee (West Lancashire), Florentyna Parker (Royal Birkdale) 38-34, Sahra Hassan (Vale of Glamorgan) 38-34.
73
Leona Maguire (Slieve Russell) 37-36, Karen Delaney (Carlow) 37-36, Niamh Kitching (Claremorris) 38-35, Kerry Smith (Waterlooville) 38-35, Hannah Barwood (Knowle) 38-35,
Emily Ogilvy
(Auchterarder) 37-36, Lisa Maguire (Slieve Russell) 38-35, Andre Lucie (Fra).
74
Carly Booth
(Comrie) 39-35, Alessandra de Luigi (Ita), Shirley Harvey (Ballyclare), Joelle Van Baarle (Bel), Rachel Jennings (Izaak Walton), Elizabeth Bennett (Brokenhurst Manor), Sian James (Bristol & Clifton).
75
Hannah Jenkins (Cradoc), Sarah Attwood (Gog Magog), Valerie Sternebeck (Ger), Rachel Connor (Manchester),
Roseanne Niven
(Crieff) 38-37, Marion Ricordeau (Fra), Barbara Genuini (Fra).
76
Megan Briggs
(Kilmacolm) 38-38, Kyra Van Leeuwen (Net), Marianna Causin (Ita),
Laura
Murray
(Alford) 39-37, Sarah Faller (Galway), Karlijn Zaanen (Net), Deirdre Smith (Co Louth), Marion De Roey (Bel), Sally Kreuger (US).
=======
PROJECTED CUT-OFF POINT FOR HALFWAY QUALIFYING
======
77
Tara Delaney (Carlow),
Kelsey MacDonald
(Nairn Dunbar) 40-37,
Louise Kenney
(Pitreavie) 40-37,
Pamela Pretswell
(Bothwell Castle) 39-38, Charlotte Wild (Mere), Maaike Naafs (Net), Stephanie Evans (Vale of Llangollen), Enrica Prando (Ita), Chrisje De Vries (Net).
78
Samantha Round (Tadmarton Heath), Kate Whitmore (Sandiway), Mayura Skowronski (US), Stephanie Meadow (Royal Portrush), Valentine Derrey (Fra), Holly Aitchison (The Bedfordshire), Laura Jansone (Latvia).
79
Louise Coffey (Malone), Danielle McVeigh (Royal Co Down), Naomi Edwards (Ganton), Hannah Ralph (Cowdray Park), Tilly Holder (Woburn),
Gemma Webster
(Hilton Park) 38-41, Samantha Birks (Wolstanton), Harriet Owers-Bradley (Wollaton Park), Rachel Cassidy (Stirling Univ), Audrey Decharne (Fra), Rachael Lewis (Newport).
80
Susan Wood
(Drumpellier) 40-40, Gillian O'Leary (Cork), Charlotte Ellis (Minchinhampton), Kym Larratt (Kibworth).
81
Anna Carling (Vale of Glamorgan), Charlie Field (Harpenden), Darragh McGowan (Ballybofey),
Jane Turner
(Craigielaw) 39-42, Kim Kuijsters (Net),
Annabel Niven
(Crieff) 41-40, Federica Constantin (Ita), Hermione Fitzgerald (Newmarket), Federica Constantini (Ita).
82
Faye Sanderson (Heworth), Rachel Drummond (Beaconsfield), Joanne Hodge (Knowle),
Michele Thomson
(McDonald Ellon) 41-41, Ciara Butler (Newlands),
Emma Fairnie
(Dunbar) 43-39, Joanne Fish (Runcorn), Charlie Douglass (Brocket Hall).
83
Gillian Brooks (Mill Ride), Louise Memagh (Woodbridge),
Alexandra Bushby
(Strathmore) 45-38, Laura Chemarin (Fra), Lisa Ball (Matfen Hall), Tracey Boyes (Meon Valley).
84
Becky Dowell (Enmore Park),
Jill Meldrum
(Dullatur) 40-44, Lisa Barton (Coventry),
Lauren Mackin
(Majorca) 44-40.
85
Jocelyn Carthew
(Ladybank) 43-42, Ukoma Mbuko (Nigeria)..
86
Isabel Alvarez Valcarce (Spa).
87
Lucy Williams (Mid Herts).
93
Liz Lewis (Aus).
+The leading 40 and ties after 36 holes will go forward to Friday's final two rounds.
Labels: Amateur Ladies, Girls